SIGNATURES
Identified individuals are represented by a biographical sketch, a list of connections to other signatures, and, in most cases, an artifact from the Ransom Centers collections. Help us identify more signatures by submitting your suggested identification.
THE DOOR

Location on door: front, panel 1
Born in Ohio, Harry Kemp (1883-1960) is one of the dramatic personalities for whom Greenwich Village is known. As a young man, he ran away to sea, working as a cabin boy on a steamer, and then hoboed around the United States. He attended college at the University of Kansas, where he began writing in earnest. A notorious self-promoter, Kemp was a highly visible figure on the Greenwich Village and Provincetown scenes from the 1910s. He acted in the landmark Provincetown Players production of Eugene O'Neill's first play, Bound East for Cardiff (appropriately, he played a seafarer). In 1915 he married Mary Pyne, who acted in many Provincetown Players productions and was also wooed by Theodore Dreiser. Known for his affairs, Kemp infamously broke up Upton Sinclair's marriage. Kemp's poems appeared in book form and in periodicals such as The Masses and The Smart Set, and beginning in the early 1920s he published three autobiographical narratives. From the 1930s, he lived in a shack, given to him by friends, in the dunes of Provincetown where he resided until his death. The shack still stands today.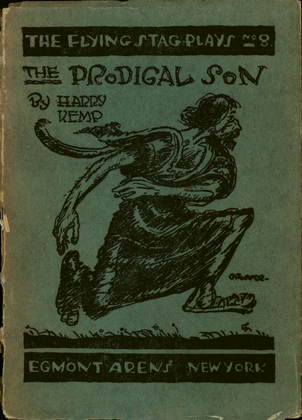 X

Creator: Kemp, Harry (1883-1960)

Title: The Prodigal Son

Description: The Flying Stag Plays no. 8. Front and back cover and title page.

Imprint: New York: Egmont Arens

Item Date: 1919

Material Type: Serials

ADA Caption: The Prodigal Son

Curatorial Department: Book Collection

Collection Name: Theater Arts Collection

Stack Location: PS 3521 E45 P7 1919 HRC-TA

Copyright Notices: Some of the documents shown here are subject to U. S. copyright law. It is the user's sole responsibility to contact the copyright holder and secure any necessary copyright permission to publish documents, texts, and images from any holders of rights in these materials. As the owner of the physical object (not the underlying copyright), the Ransom Center requires that you also contact us if you wish to reproduce an image shown here in a print publication or electronically.

Every effort has been made to trace copyright ownership and to obtain permission for reproduction. If you believe you are the copyright owner of an item on this site, and we have not requested your permission, please contact us.

X
The cover of Harry Kemp's The Prodigal Son (New York: Egmont Arens, 1919).
The Provincetown Players production of this comic play was delayed due to Kemp's difficult relations with the cast and director. Initially cast to play a role in the play, he was fired after refusing direction. The play was finally produced in 1917, but Kemp never played another role with the group. The work was published as number eight in Egmont Arens's Flying Stag Plays, a nine-volume series published from his Washington Square Bookshop. The cover art was drawn by William Gropper. The series also featured plays by George Cronyn, James Oppenheim, Floyd Dell, Theresa Helburn, Philip Moeller, Mary Carolyn Davies, Seumas O'Brien, and Alice Rossiter. Arens inaugurated the series after he took over the Washington Square Bookshop from Frank Shay around 1917. Shay had published his own series there, The Provincetown Plays, before being drafted to serve in World War I.