SIGNATURES
Identified individuals are represented by a biographical sketch, a list of connections to other signatures, and, in most cases, an artifact from the Ransom Centers collections. Help us identify more signatures by submitting your suggested identification.
THE DOOR

Location on door: front, panel 2
The novelist Floyd Dell (1887-1969) had a unique connection to the bookshop door: before it was covered with signatures, it hung in his flat at 11 Christopher Street, just across the street. Dell was a leader in the Village community of the 1910s, but began his life in Barry, Illinois. The family moved to Davenport, Iowa a few years later. Rebellious by nature, Dell joined the Socialist Party when he was just sixteen. After dropping out of high school, he became a reporter in Davenport and soon met other young literary members of the community, including Susan Glaspell, Harry Hansen, George Cram Cook, and Arthur Davison Ficke. In 1908 he moved to Chicago and worked as a freelance reporter and reviewer, building a reputation for his endorsement of major Socialist writers. His first published book, Women as World Builders (1913) revealed his emerging feminist views. A prominent figure in leftist and literary social circles in Chicago, Dell moved to Greenwich Village in 1913, where he swiftly became a community leader. He became managing editor at the Masses (and later helped lead the Liberator), and was involved in the earliest stages of the Provincetown Players; one of his plays was produced in their first season. He had a famous love affair with Edna St. Vincent Millay--one of many with various women in the Village. in 1919 he moved to Croton-on-Hudson, New York, with his second wife, Berta Marie Gage, but remained active in Village publications. The next year his autobiographical novel Moon Calf was released, and for the remainder of his life fiction writing was his main pursuit, though he continued to be a prolific critic. He never lost his investment in radical politics and social change, and his work in all genres reflects these enduring beliefs.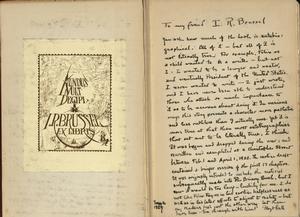 View larger image

X

Creator: Dell, Floyd, 1887-1969

Title: The Moon Calf

Description: First edition inscribed to I.R. Brussell, 1929

Imprint: New York: Knopf, 1920

Material Type: Monographs

ADA Caption: The Moon Calf

Curatorial Department: Book Collection

Collection Name: Rare Books Collection

Stack Location: PS 3507 E49 M6

Copyright Notices: Some of the documents shown here are subject to U. S. copyright law. It is the user's sole responsibility to contact the copyright holder and secure any necessary copyright permission to publish documents, texts, and images from any holders of rights in these materials. As the owner of the physical object (not the underlying copyright), the Ransom Center requires that you also contact us if you wish to reproduce an image shown here in a print publication or electronically.

Every effort has been made to trace copyright ownership and to obtain permission for reproduction. If you believe you are the copyright owner of an item on this site, and we have not requested your permission, please contact us.

X
The front endpapers of Floyd Dell's Moon Calf (New York: Knopf, 1920), inscribed to I. R. Brussel
Moon Calf was Dell's first of many novels, and is regarded as his best by most critics. He investigates the books origins in this lengthy inscription to the bookseller I. R Brussel.