SIGNATURES
Identified individuals are represented by a biographical sketch, a list of connections to other signatures, and, in most cases, an artifact from the Ransom Centers collections. Help us identify more signatures by submitting your suggested identification.
THE DOOR

Location on door: front, panel 3
A major American designer and illustrator, Will Bradley (1868-1962) had a diverse and prolific career, designing everything from book and magazine covers to homes, writing articles, and even writing and directing independent films. Born in Boston, Massachusetts, Bradley relocated to Michigan with his family after his father's death in 1880. While he had little formal artistic training, he began learning the printing trade at the age of 14, when he dropped out of school and began working for a local newspaper. In 1885 Bradley completed a six-week unpaid internship in wood engraving in Chicago, where he moved the following year and eventually landed a job as an illustrator for a printing firm. He left the position in 1889 to become a freelance designer, exhibiting his work in the World's Columbian Exposition (1893) and the Fourth and Fifth Annual Black and White Exhibitions (1892, 1893). But Bradley's reputation was made with the rise of the poster movement: his 1894 poster The Twins, designed for the important Chicago-based literary magazine The Chap-Book, is considered the first American Art Nouveau poster. Bradley founded the Wayside Press in Springfield, Massachusetts in 1895, out of which he began publishing Bradley: His Book in 1896. Though the little periodical was well-received, Bradley suffered a physical breakdown in 1897 and sold the Press to the University Press of Cambridge. He continued his heavy involvement in the graphic arts world upon his recovery, however, creating The American Chap-Book for the American Type Founders and serving as art editor for the periodicals Collier's, Century, Good Housekeeping, Metropolitan, National Weekly, Pearson's, and Success. From 1916 until his retirement in the early thirties, Bradley worked with Hearst Publications and Motion Pictures, doing a variety of work in both print and film. In 1954 he won the American Institute of Graphic Arts award, the highest honor for graphic designers.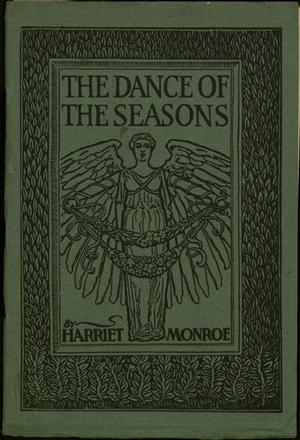 View page turner

X

Creator: Monroe, Harriet, 1860-1936

Bradley, Will 1868-1962, illustrator

Title: The Dance of the Seasons

Description: With Monroe's enclosed "Card to the Public"

Imprint: Chicago: Ralph Seymour, 1911

Material Type: Monographs

Curatorial Department: Book Collection

Collection Name: Rare Books Collection

Stack Location: AC-L M757da 1911

Copyright Notices: Some of the documents shown here are subject to U. S. copyright law. It is the user's sole responsibility to contact the copyright holder and secure any necessary copyright permission to publish documents, texts, and images from any holders of rights in these materials. As the owner of the physical object (not the underlying copyright), the Ransom Center requires that you also contact us if you wish to reproduce an image shown here in a print publication or electronically.

Every effort has been made to trace copyright ownership and to obtain permission for reproduction. If you believe you are the copyright owner of an item on this site, and we have not requested your permission, please contact us.

X
Harriet Monroe's Dance of the Seasons (Chicago: Ralph Seymour, 1911)
Bradley's cover art and interior illustration for this pamphlet-style edition are among his more understated works. The volume contains the poems of Harriet Monroe, a major figure in the Chicago literary scene, where this book was published. Monroe is most famous for founding and editing the influential magazine Poetry.