SIGNATURES
Identified individuals are represented by a biographical sketch, a list of connections to other signatures, and, in most cases, an artifact from the Ransom Centers collections. Help us identify more signatures by submitting your suggested identification.
THE DOOR

Location on door: front, panel 1
The poet and art critic Carl Sadakichi Hartmann (1867-1944) was a Bohemian magnet of sorts who was involved in every possible artistic community or movement from an early age. As Ezra Pound wrote in 1938, "If one hadn't been oneself, it wd. have been worth while to have been Sadakichi." Hartmann was born on the artificial traders' island of Dejima in the bay of Nagasaki, Japan, to a Japanese mother and a German father. After spending his early years in Germany, he came to the United States at age 15. One of his formative experiences was being mentored by Walt Whitman, to whom he introduced himself at age 17 and knew until the poet's death. An advocate of Whitman's verse for his entire life, he also became an important advocate for the French Symboliste movement, and eventually for the burgeoning field of photography, publishing extensively in Alfred Stieglitz's influential magazine Camera Work. He spent time in Greenwich Village, and in 1915 was crowned the "King of Bohemia" by Guido Bruno. He also spent much of the 1910s in the Roycrofters Arts and Crafts colony in upstate New York, where he lived with his second of two wives. From the late 1890s on, Hartmann published his own poetry in magazine and book form, and, according to Kenneth Rexroth, was the first poet to write haiku and tanka in English. In the early 1920s he left New York for San Francisco and then Los Angeles. In 1923, John Barrymore helped him get the part of the magician in the film The Thief of Baghdad (whose intertitles were written by Achmed Addullah). Hartmann's film career never took off, but he became known as a film critic, artist, and as a flamboyant presence in Los Angeles art and film circles. In his early seventies he moved to a shack on the Morongo Indian reservation in the Southern California desert, where he lived until his death.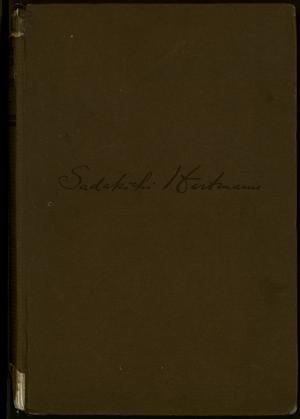 View page turner

X

Creator: Hartmann, Sadakichi, 1867-1944

Title: The Last Thirty Days of Christ

Description: Printed by Egmont Arens with inscription and tipped-in letter from Hartmann to Thomas Hardy as well as Hardy's library bookplate

Imprint: New York: Privately Printed, 1920

Item Date: 1922

Material Type: Monographs

ADA Caption: The Last Thirty Days of Christ

Curatorial Department: Book Collection

Collection Name: Library of Thomas Hardy

Stack Location: BT 309 H32

Copyright Notices: Some of the documents shown here are subject to U. S. copyright law. It is the user's sole responsibility to contact the copyright holder and secure any necessary copyright permission to publish documents, texts, and images from any holders of rights in these materials. As the owner of the physical object (not the underlying copyright), the Ransom Center requires that you also contact us if you wish to reproduce an image shown here in a print publication or electronically.

Every effort has been made to trace copyright ownership and to obtain permission for reproduction. If you believe you are the copyright owner of an item on this site, and we have not requested your permission, please contact us.

X
The cover and preliminary pages of Thomas Hardy's inscribed copy of Sadakichi Hartmann's Last Thirty Days of Christ (New York, 1920)
This fictional narrative claims to be a translation of a surviving manuscript written by a follower of Jesus. The volume was printed by door signer Egmont Arens. This copy is one of almost 300 books owned by the novelist Thomas Hardy that reside at the Ransom Center.