SIGNATURES
Identified individuals are represented by a biographical sketch, a list of connections to other signatures, and, in most cases, an artifact from the Ransom Centers collections. Help us identify more signatures by submitting your suggested identification.
THE DOOR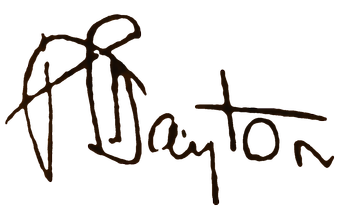 Location on door: front, panel 1
The writer and publisher Fred Erving Dayton (1880-1954) started his career as a reporter and columnist for newspapers in Hartford, Connecticut. During the early 1920s, he and his wife, artist Helena Smith Dayton lived in Greenwich Village at 259 W. 11th St. and participated in its artistic circles. Dayton composed one-act plays and contributed at least one book review to the local bohemian newspaper published at Frank Shay's bookshop, the Greenwich Villager. In 1925 he wrote a history of American river traffic, titled Steamboat Days, which achieved considerable popular success. During this period Dayton also began work as a sales manager for the periodical publisher Condé Nast, where he remained until his retirement.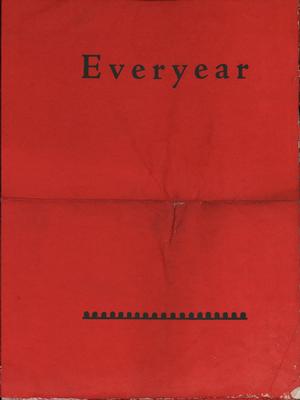 View slide show

X

Creator: Dayton, Fred Erving, 1880-1954
Dayton, Helena Smith
Roth, Herb, 1887-1953 (Illustrator)

Title: Holiday card entitled "Everyear"

Item Date: 1921

Material Type: Manuscript

ADA Caption: Everyear

Curatorial Department: Manuscripts Collection

Collection Name: Fannie Hurst Papers

Stack Location: Box 116, Folder 2

Copyright Notices: Some of the documents shown here are subject to U. S. copyright law. It is the user's sole responsibility to contact the copyright holder and secure any necessary copyright permission to publish documents, texts, and images from any holders of rights in these materials. As the owner of the physical object (not the underlying copyright), the Ransom Center requires that you also contact us if you wish to reproduce an image shown here in a print publication or electronically.

Every effort has been made to trace copyright ownership and to obtain permission for reproduction. If you believe you are the copyright owner of an item on this site, and we have not requested your permission, please contact us.

X
The cover and interior of Fred Erving and Helena Smith Dayton's "Everyear," a holiday card in the form of a play, with an illustration by Herb Roth, Christmas 1921
This comic holiday card from Christmas of 1921 features a vignette in which a husband and wife struggle to find an idea for their yuletide greetings. The card's illustration by Herb Roth includes caricatures of the Daytons. The couple's signatures appear two names apart on the bookshop door.