SIGNATURES
Identified individuals are represented by a biographical sketch, a list of connections to other signatures, and, in most cases, an artifact from the Ransom Centers collections. Help us identify more signatures by submitting your suggested identification.
THE DOOR

Location on door: front, panel 1
Charles Divine (1899-1950) was a writer who spanned a variety of genres--he was a journalist, poet, short story writer, novelist, and playwright. He started his career writing for the New York Sun and continued to write verse while serving in Europe with the 27th (New York) Division during World War I. Following the war, Divine published volumes of poetry and a WWI novel, Cognac Hill, as well as plays, two of which were adapted into short films. In the late 1940s, Divine served as an English Instructor at Triple Cities College in Endicott, NY.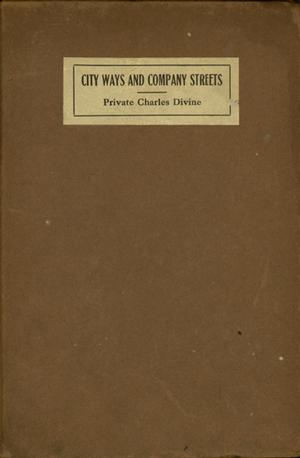 View page turner

X

Creator: Divine, Charles, 1889-1950

Title: Title page and "At the Lavender Lantern" in City Ways and Company Streets

Imprint: New York: Moffat, Yard & Company, 1918

Item Date: 1918

Material Type: Monographs

ADA Caption: "At the Lavender Lantern" in City Ways and Company Streets

Curatorial Department: Book Collection

Collection Name: Rare Books Collection

Stack Location: PS 3507 I87 C5 1918

Copyright Notices: Some of the documents shown here are subject to U. S. copyright law. It is the user's sole responsibility to contact the copyright holder and secure any necessary copyright permission to publish documents, texts, and images from any holders of rights in these materials. As the owner of the physical object (not the underlying copyright), the Ransom Center requires that you also contact us if you wish to reproduce an image shown here in a print publication or electronically.

Every effort has been made to trace copyright ownership and to obtain permission for reproduction. If you believe you are the copyright owner of an item on this site, and we have not requested your permission, please contact us.

X
The front cover, preliminary pages, and the poem "At the Lavender Lantern" in Charles Divine's City Ways and Company Streets (New York: Moffat, Yard & Company, 1918)
In the preface, Grant Overton, literary editor of the New York Sun, muses that this book ought to be subtitled "From Greenwich Village to Spartanburg." The opening poem, "At the Lavender Lantern," is written from the perspective of a soldier at war wondering after his old Greenwich Village haunt. "The Village, which spoils utterly so many talents, could not spoil Divine," Overton explains, "He saw its poetry and the real wistfulness that underlies the freakish surface." Divine's next two volumes of verse, Gypsy Gold (1923) and The Road to Town (1925) were published by fellow Greenwich Villager Thomas Seltzer.