SIGNATURES
Identified individuals are represented by a biographical sketch, a list of connections to other signatures, and, in most cases, an artifact from the Ransom Centers collections. Help us identify more signatures by submitting your suggested identification.
THE DOOR

Location on door: front, panel 1
The prolific novelist, critic, and scholar, Ludwig Lewisohn (1882-1955), was born in Germany and raised in South Carolina. In 1906, he married Mary Crocker, who signed the door just above him using her pen-name and her married name "Bosworth Crocker / Mrs. L. L." We can assume that the two visited the shop in its early days, since divorce proceedings began in 1922. At the time, Lewisohn had published several books, including fiction and criticism, and was working as a drama critic for The Nation. His first book, published in 1908, had been brought to press with the assistance of Theodore Dreiser, and he was friends with several of the door's signatories, including Sinclair Lewis and Upton Sinclair. Lewisohn's marital breakup turned very ugly, and a formal separation began in 1924. Lewisohn and his new partner, Thelma Spear, left for Europe, remaining there until 1934. In 1926, Lewisohn published his autobiographical novel, The Case of Mr. Crump, which told the story of his marriage to Mary as one of horrific bondage. After returning to the U. S., Lewisohn went on to an illustrious career as a writer, professor at Brandeis University, and major advocate for the Zionist cause. He did finally achieve a divorce from Mary and was married two more times.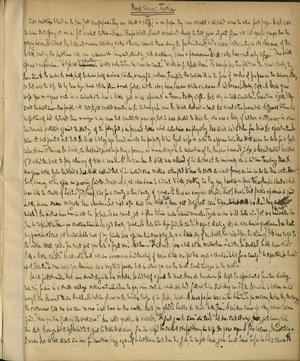 View slide show

X

Creator: Lewisohn, Ludwig, 1882-1955

Title: The Case of Mr. Crump

Description: Autograph manuscript, pages 1-3

Item Date: 1925

Material Type: Manuscript

ADA Caption: The Case of Mr. Crump

Curatorial Department: Manuscripts Collection

Collection Name: Ludwig Lewisohn Collection

Stack Location: Box 1. Folder 1-3

Copyright Notices: Some of the documents shown here are subject to U. S. copyright law. It is the user's sole responsibility to contact the copyright holder and secure any necessary copyright permission to publish documents, texts, and images from any holders of rights in these materials. As the owner of the physical object (not the underlying copyright), the Ransom Center requires that you also contact us if you wish to reproduce an image shown here in a print publication or electronically.

Every effort has been made to trace copyright ownership and to obtain permission for reproduction. If you believe you are the copyright owner of an item on this site, and we have not requested your permission, please contact us.

X
The opening pages of a bound manuscript of Ludwig Lewisohn's The Case of Mr. Crump, 1925-26
On the final page of this fair copy manuscript, Lewisohn notes that it was composed in "Paris, Nov. 30, 1925-May 16, 1926." The novel was published in Paris in 1926 and praised highly by critics including Sigmund Freud and Thomas Mann. Mary entered a libel suit to keep the book from being released in the United States. A pirated edition appeared in 1930, and it was finally legally published in the United States in 1947, after Mary's death in 1946. The novel was considered a major literary work by many, but is little known today.