SIGNATURES
Identified individuals are represented by a biographical sketch, a list of connections to other signatures, and, in most cases, an artifact from the Ransom Centers collections. Help us identify more signatures by submitting your suggested identification.
THE DOOR

Location on door: front, panel 1
Samuel Aaron DeWitt (1891-1963) was a socialist politician and writer. In 1919, he was elected to represent the Bronx in the New York Legislature. In January 1920, he and four other newly elected legislators were famously refused their seats due to their Socialist Party affiliation. DeWitt ran for office many more times, but was never elected again. He was very involved in leftist magazine publishing, both editing and appearing in socialist publications over the course of his career. He was for many years good friends with Upton Sinclair, himself famous for his early muckraking journalism and longtime Socialist agitation. DeWitt was a poet and published many books over the course of his lifetime. Frank Shay published his Iron Monger: A Book of Poems, from the bookshop in 1921. Several of his later books were published by the Parnassus Press, founded by Lew Ney.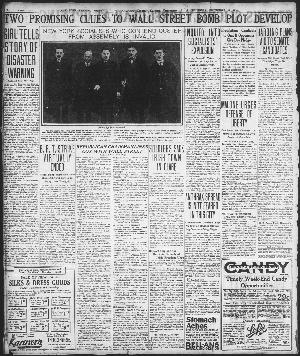 View larger image

X

Title: A page from the New York Evening Journal

Description: Contains a photograph of DeWitt and

Material Type: Newspapers

Curatorial Department: Microfilm

Collection Name: New York Journal-American Photography Collection

Stack Location: Microfilm, drawer 16

Copyright Notices: Some of the documents shown here are subject to U. S. copyright law. It is the user's sole responsibility to contact the copyright holder and secure any necessary copyright permission to publish documents, texts, and images from any holders of rights in these materials. As the owner of the physical object (not the underlying copyright), the Ransom Center requires that you also contact us if you wish to reproduce an image shown here in a print publication or electronically.

Every effort has been made to trace copyright ownership and to obtain permission for reproduction. If you believe you are the copyright owner of an item on this site, and we have not requested your permission, please contact us.

X
A photograph of S. A. DeWitt and other ousted Socialist legislators in the New York Journal American newspaper, January 24, 1920.
The years 1919-20 encompassed the first "Red Scare" in the United States, when reaction against a growing American radical population led to reactionary events such as the one that made DeWitt and his colleagues temporarily famous. Their ouster was widely reported and discussed in the press.