SIGNATURES
Identified individuals are represented by a biographical sketch, a list of connections to other signatures, and, in most cases, an artifact from the Ransom Centers collections. Help us identify more signatures by submitting your suggested identification.
THE DOOR

Location on door: front, panel 3
Frank Conroy (1890-1964) was a prominent figure in the Greenwich Village Little Theater scene. He had been a Shakespearean actor in his native England before moving to New York in 1915 to appear on Broadway. During the teens, he acted with the Washington Square Players and circa 1917 helped found the Greenwich Village Theater, serving for a period as its director. In the 1920s, Conroy returned to Broadway, balancing his stage career with roles in film (he appeared in over 70 films beginning in the 1930s). In 1957, he won a Tony award in the category "Supporting or Featured Actor (Dramatic)" for his performance as Father William Callifer in the Broadway production of Graham Greene's The Potting Shed.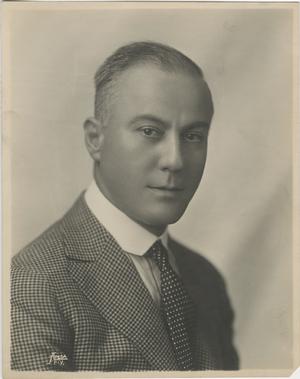 View slide show

X

Creator: Apeda Studio

Title: Photograph of Frank Conroy

Description: Inscribed on verso

Item Date: Undated

Material Type: Photographs

ADA Caption: Photograph of Frank Conroy

Curatorial Department: Performing Arts Collection

Collection Name: Theater Biography Collection

Stack Location: Box 91

Copyright Notices: Some of the documents shown here are subject to U. S. copyright law. It is the user's sole responsibility to contact the copyright holder and secure any necessary copyright permission to publish documents, texts, and images from any holders of rights in these materials. As the owner of the physical object (not the underlying copyright), the Ransom Center requires that you also contact us if you wish to reproduce an image shown here in a print publication or electronically.

Every effort has been made to trace copyright ownership and to obtain permission for reproduction. If you believe you are the copyright owner of an item on this site, and we have not requested your permission, please contact us.

X
A publicity photograph of Frank Conroy, undated
This portrait of Conroy was shot by Apeda, a New York photography studio known for its portraiture of athletes and Broadway performers. Conroy's grizzled hair suggests that the photograph was taken in the 1930s or later.