SIGNATURES
Identified individuals are represented by a biographical sketch, a list of connections to other signatures, and, in most cases, an artifact from the Ransom Centers collections. Help us identify more signatures by submitting your suggested identification.
THE DOOR

Location on door: front, panel 2
William Morley Punshon McFee (1881-1966) was born at sea on a ship both designed and captained by his father. Accordingly, it is not surprising that, after being raised in London and working in engineering, he took to sea at age twenty-four as a junior engineer aboard a steamer called the Rotherfield. Within three years, he had published his first book, Letters from an Ocean Tramp (1908). During his nearly twenty-year career at sea, McFee rose to become Chief Engineer on a passenger vessel with routes between New York, Cuba, and Latin America. Amazingly, he published novels and non-fiction throughout this period. In 1924, McFee retired from the sea, settling in New York to devote his attention to his writing.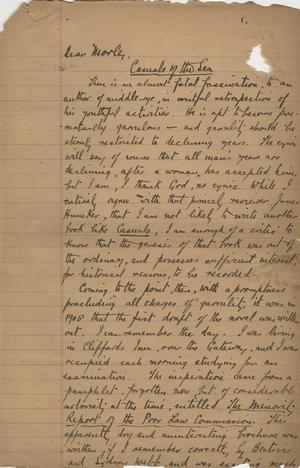 View slide show

X

Creator: McFee, William, 1881-1966

Title: Letter to Christopher Morley entitled "Casuals of the Sea"

Item Date: Undated

Material Type: Manuscript

ADA Caption: Letter to Christopher Morley entitled "Casuals of the Sea"

Curatorial Department: Manuscripts Collection

Collection Name: Christopher Morley Collection

Stack Location: Miscellaneous

Copyright Notices: Some of the documents shown here are subject to U. S. copyright law. It is the user's sole responsibility to contact the copyright holder and secure any necessary copyright permission to publish documents, texts, and images from any holders of rights in these materials. As the owner of the physical object (not the underlying copyright), the Ransom Center requires that you also contact us if you wish to reproduce an image shown here in a print publication or electronically.

Every effort has been made to trace copyright ownership and to obtain permission for reproduction. If you believe you are the copyright owner of an item on this site, and we have not requested your permission, please contact us.

X
A letter from William McFee to Christopher Morley entitled, "Casuals of the Sea," undated
In this document, half-letter and half-essay, McFee explains how he came to write one of his most successful novels, Casuals of the Sea (1916). "I am enough of a critic," he writes "to know that the genesis of that book was out of the ordinary, and possesses sufficient interest, for historical reasons, to be recorded." McFee's account touches on a broad range of matters, from his literary inspiration, to his choice of setting, to the novel's form.