SIGNATURES
Identified individuals are represented by a biographical sketch, a list of connections to other signatures, and, in most cases, an artifact from the Ransom Centers collections. Help us identify more signatures by submitting your suggested identification.
THE DOOR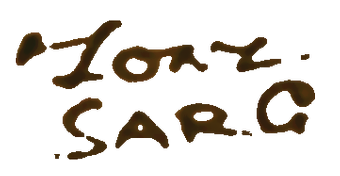 Location on door: front, panel 1
Tony Sarg (1880-1942) is known as the father of modern American puppetry. Born in Guatemala to a German father and English mother, he spent his later childhood in Germany and then worked as a commercial artist in England in the early 1900s. When anti-German sentiment increased there with the outbreak of World War I, he moved his family to Greenwich Village, where his whimsical cartoons and illustrations—and Sarg's winning personality—quickly made him popular with publishers. In 1917, he opened the Tony Sarg Company, which was soon acclaimed for its innovative, technically sophisticated marionette productions. Sarg also taught puppetry—traditionally a secret art handed down through families—and fostered a new generation of performers through his classes and his instructional puppetry books and articles. He also published several illustrated volumes for children and adults. For the Macy's Thanksgiving Day Parade in 1927, he was contracted to build a series of huge rubberized silk animal balloons, some so large they required fifty handlers on the ground; similar rubber balloons are still used in Macy's Thanksgiving Day Parades today. Sarg is also responsible for Macy's first elaborate mechanized Christmas window displays, which became a nationwide trend after he began producing them in 1935.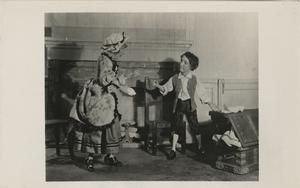 View slide show

X

Creator: Unidentified photographer

Title: Photographs of a marionette production of Treasure Island

Description: Inscribed on verso

Item Date: 1925

Medium: Gelatin silver print

Dimensions: 12.8 cm x 20.3 cm

Material Type: Photographs

ADA Caption: Photographs of Tony Sarg Marionnettes for Treasure Island

Curatorial Department: Performing Arts Collection

Collection Name: Puppetry Collection

Stack Location: Box 4

Copyright Notices: Some of the documents shown here are subject to U. S. copyright law. It is the user's sole responsibility to contact the copyright holder and secure any necessary copyright permission to publish documents, texts, and images from any holders of rights in these materials. As the owner of the physical object (not the underlying copyright), the Ransom Center requires that you also contact us if you wish to reproduce an image shown here in a print publication or electronically.

Every effort has been made to trace copyright ownership and to obtain permission for reproduction. If you believe you are the copyright owner of an item on this site, and we have not requested your permission, please contact us.

X
Publicity photographs for a Tony Sarg Marionettes production of Treasure Island, 1925
In the 1920s Sarg's puppetry company was renowned for its charming, elaborate entertainments performed all over the United States. Most of the productions told popular stories—Don Quixote, Ali Baba and the Forty Thieves, Alice in Wonderland—and appealed to children and adults alike. This production took place at the intimate Charles Hopkins Theater just off Times Square, New York, known for small experimental productions. At this time, Sarg's fame was reaching a peak and he was becoming widely known as "America's Puppet Master."