SIGNATURES
Identified individuals are represented by a biographical sketch, a list of connections to other signatures, and, in most cases, an artifact from the Ransom Centers collections. Help us identify more signatures by submitting your suggested identification.
THE DOOR

Location on door: front, panel 1
The Vermont-born publisher John C. Farrar (1896-1974) is best known for founding two companies, Farrar, Rinehart (1926) and Farrar, Straus and Company (1946), which still operates today as Farrar, Straus and Giroux. His career began when he was a student at Yale, where he wrote plays and poetry and edited a collection of student verse; in 1919 he won the Yale Younger Poets Prize for his volume Forgotten Shrines. After serving in World War I and finishing his degree soon after, Farrar moved to New York and became a central figure in the Greenwich Village literary scene. In 1921 he was hired by publisher George H. Doran, for whom he edited the Bookman, a magazine that had a powerful influence over the careers of many writers who signed the bookshop door. Farrar was well-liked among writers for his generous, sociable personality, characteristics that served him well in his long career. When Doran sold the Bookman to Burton Rascoe and Seward B. Collins in 1927, Farrar started his own publishing company with Stanley Rinehart. Farrar's work in the literary community went well beyond his immediate professional responsibilities. In 1922, he helped to form the first American center of the writers' organization P.E.N, and in 1926, he and Robert Frost began the Breadloaf Writers' Conference at Middlebury College.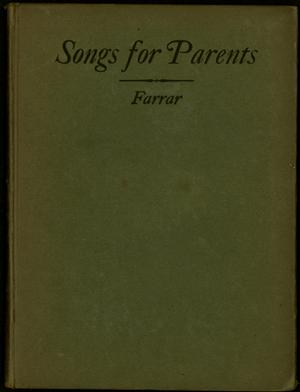 View slide show

X

Creator: Farrar, John Chipman, 1896-1974

Title: Songs for Parents

Description: With inscription and tipped in poem to Gloria Swanson, inscription to Swanson and her children, and Swanson's bookplate

Imprint: New Haven: Yale University Press, 1922

Item Date: 1922

Material Type: Monographs

ADA Caption: Songs for Parents

Curatorial Department: Book Collection

Collection Name: Gloria Swanson Papers

Stack Location: PS 3511 A735 S6 1922 HRC-TA

Copyright Notices: Some of the documents shown here are subject to U. S. copyright law. It is the user's sole responsibility to contact the copyright holder and secure any necessary copyright permission to publish documents, texts, and images from any holders of rights in these materials. As the owner of the physical object (not the underlying copyright), the Ransom Center requires that you also contact us if you wish to reproduce an image shown here in a print publication or electronically.

Every effort has been made to trace copyright ownership and to obtain permission for reproduction. If you believe you are the copyright owner of an item on this site, and we have not requested your permission, please contact us.

X
Images from Gloria Swanson's copy of John Farrar's A Song for Parents (New Haven: Yale University Press, 1922), with tipped-in poem, "A Valentine for Gloria," and inscription to Swanson and her children
Gloria Swanson was a wildly popular star of silent films when Farrar gave her this volume.