SIGNATURES
Identified individuals are represented by a biographical sketch, a list of connections to other signatures, and, in most cases, an artifact from the Ransom Centers collections. Help us identify more signatures by submitting your suggested identification.
THE DOOR
Location on door: back, panel 4
The person behind this signature remains a mystery; all that we have been able to determine is that he was acquainted with Christopher Morley.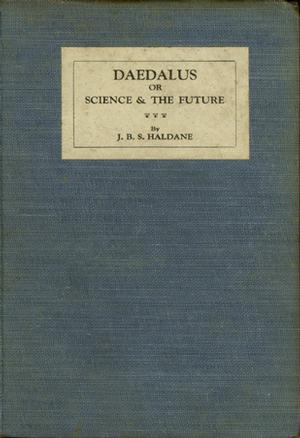 View page turner

X

Creator: Haldane, J. B. S. (John Burdon Sanderson), 1892-1964

Title: Daedalus: Or Science and the Future

Description: Inscribed by Peter Underhill with spelling corrections in two further hands

Imprint: New York: Dutton, 1924

Item Date: 1924

Material Type: Monographs

ADA Caption: Daedelus: Or Science and the Future

Curatorial Department: Book Collection

Collection Name: Christopher Morley Collection

Stack Location: q 171 H15 1924c MOR

Copyright Notices: Some of the documents shown here are subject to U. S. copyright law. It is the user's sole responsibility to contact the copyright holder and secure any necessary copyright permission to publish documents, texts, and images from any holders of rights in these materials. As the owner of the physical object (not the underlying copyright), the Ransom Center requires that you also contact us if you wish to reproduce an image shown here in a print publication or electronically.

Every effort has been made to trace copyright ownership and to obtain permission for reproduction. If you believe you are the copyright owner of an item on this site, and we have not requested your permission, please contact us.

X
Selected pages of a copy of J. B. S. Haldane's Daedalus: Or Science and the Future (New York: Dutton, 1924), inscribed by Peter Underhill.
This volume resides in the personal library of Christopher Morley. Underhill's signature matches closely with the one that appears on the door towards the bottom of the back left panel. The book, by renowned English geneticist J. B. S. Haldane, imagines how the invention of in-vitro fertilization (only a theoretical concept at the time) might change the world. It was one of several volumes written by the left-leaning scientist for a general audience.