SIGNATURES
Identified individuals are represented by a biographical sketch, a list of connections to other signatures, and, in most cases, an artifact from the Ransom Centers collections. Help us identify more signatures by submitting your suggested identification.
THE DOOR
Location on door: front, panel 1
Mary Carolyn Davies (dates unknown) studied at the University of California, Berkeley and in 1912 was the first woman to win the Bohemian Club Prize for poetry. A prolific writer, Davies published her work in all types of periodicals, from avant-garde and radical publications like Others and the Masses to popular ones such as The Youth's Companion and McClure's Magazine. In Modern American Poetry (1921), Louis Untermeyer wrote of Davies: "Her work divides itself into two distinct classes: the hack-work which she does for a living and the genuine poetry which she creates for its own sake." Though she is best-known as a poet, Davies's one-act play The Slave with Two Faces was produced by the Provincetown Players in 1918. Her novel The Husband Test (1921) depicts the Greenwich Village scene. In it, one of the heroine's suitors is a bohemian poet associated with the Provincetown Players.
X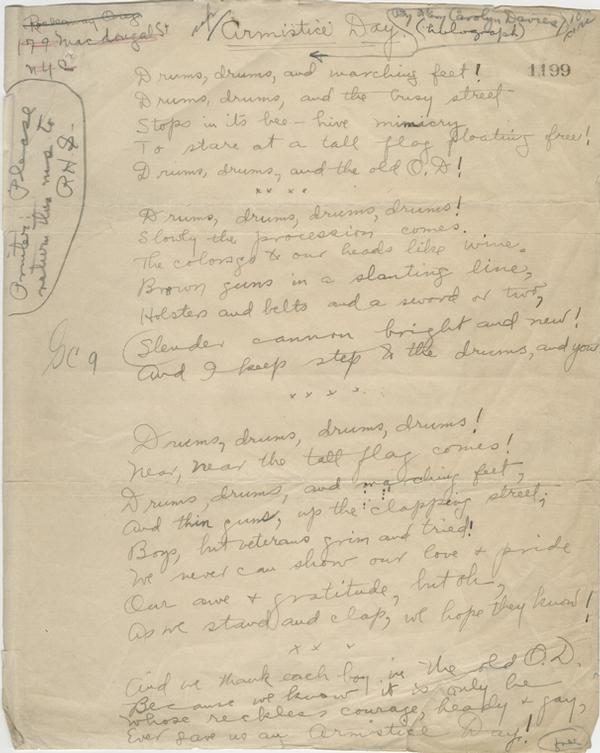 X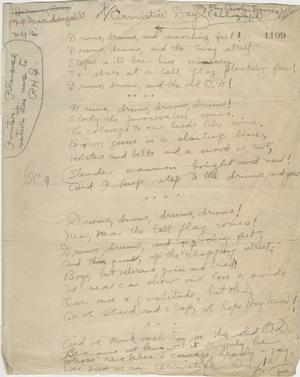 View larger image

X

Creator: Davies, Mary Carolyn

Title: "Armistice Day"

Description: Autograph manuscript with autograph emendations

Item Date: Undated

Material Type: Manuscript

ADA Caption: "Armistice Day"

Curatorial Department: Manuscripts Collection

Collection Name: Robert Haven Schauffler Collection

Stack Location: Box 2, Folder 2

Copyright Notices: Some of the documents shown here are subject to U. S. copyright law. It is the user's sole responsibility to contact the copyright holder and secure any necessary copyright permission to publish documents, texts, and images from any holders of rights in these materials. As the owner of the physical object (not the underlying copyright), the Ransom Center requires that you also contact us if you wish to reproduce an image shown here in a print publication or electronically.

Every effort has been made to trace copyright ownership and to obtain permission for reproduction. If you believe you are the copyright owner of an item on this site, and we have not requested your permission, please contact us.

X
A manuscript of Mary Carolyn Davies's "Armistice Day," undated
"Armistice Day" bears a distinctively popular and patriotic flavor. Its tone is quite different from the poem "To the Women of England," which Davies published in the Masses in April 1916 before the United States entered World War I. That poem's female speakers warn British women not to judge their American counterparts as callous for dancing and shopping and being annoyed by war penny drives since "We have never--/ Yet--/ Pinned a feather on a boy and killed him." In that poem, Davies bitingly refers to the practice among some British women of giving white feathers to young un-enlisted men to mark them as cowards.