SIGNATURES
Identified individuals are represented by a biographical sketch, a list of connections to other signatures, and, in most cases, an artifact from the Ransom Centers collections. Help us identify more signatures by submitting your suggested identification.
THE DOOR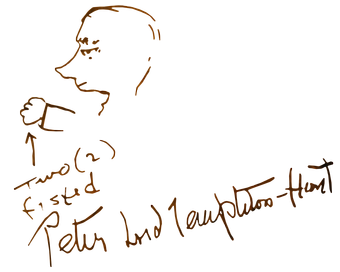 Location on door: front, panel 3
PETER LORD TEMPLETON HUNT
The flamboyant artist Peter Lord Templeton Hunt (d. 1967) was a well-known figure in the twin bohemian communities of Provincetown, Massachusetts and Greenwich Village. His capsule biography in Karen Christel Krahulik's Provincetown: From Pilgrim Landing to Gay Resort, captures him as follows: "Hunt moved to Provincetown after serving as an ambulance driver in Europe during World War I....According to one press release 'Mr. Hunt arrived in Provincetown with long blond hair, two Afghan dogs, a large black cape and a dwarf in attendance. He was known as "Peter Lord Templeton Hunt' or, as one native recently insisted, 'a real queen.' Born in 1898 in New Jersey as Freddy Schnitzer, Peter Hunt cultivated a unique artistic method and peasant style of decorating furniture, had an outlandish appearance, lived with his mother, and became a permanent fixture of Provincetown's resident community." Along with his furniture, Hunt designed a number of book jackets, magazine posters, and other printed items, some of which are featured in Lyn C. Van Dine's book about the artist.