SIGNATURES
Identified individuals are represented by a biographical sketch, a list of connections to other signatures, and, in most cases, an artifact from the Ransom Centers collections. Help us identify more signatures by submitting your suggested identification.
THE DOOR

Location on door: front, panel 3
As one of the most highly acclaimed screenwriters of the 1930s and 40s, Dudley Nichols (1895-1960) helped elevate the screenplay to a serious literary form and raised the status of screenwriters in Hollywood. Born in Wapakoneta, Ohio, he attended the University of Michigan from 1914-1917 and worked in the university's radio laboratory as a student assistant. Both this position and two years of subsequent Navy service developed Nichols' technological skills: he invented a new type of electronic discharger for commercial radio companies and a new method for electrical protection of minesweepers. The U.S. Navy used Nichols' method to sweep up 50,000 mines in the North Sea at the end of World War I, and he received a Distinguished Service Medal in 1920. Starting out at the New York Evening Post and then switching to the New York World, where he worked alongside other notables like Dorothy Parker and Heywood Broun, Nichols spent ten years in New York as a columnist, court reporter, and theatre critic. Despite professing no knowledge of film, Nichols was invited to Hollywood in 1929, when writers were being recruited to help with the new talking pictures. He wrote over sixty screenplays, including Bringing Up Baby (1938), Stagecoach (1939), and The Bells of St. Mary's (1945). Nichols became the first person to turn down an Academy Award in 1936, rejecting his Best Screenplay Adaptation for The Informer due to conflicts between the Academy and the Screen Writers' Guild, which he helped found. He served as the Guild's president from 1938-1939.
X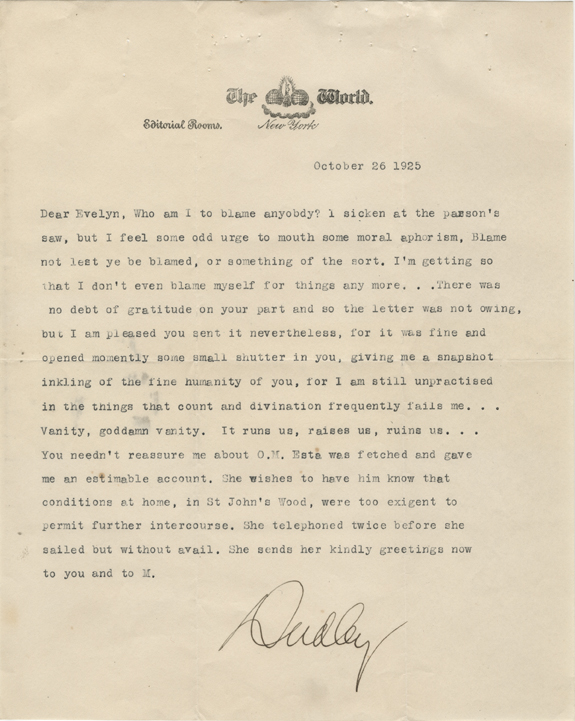 X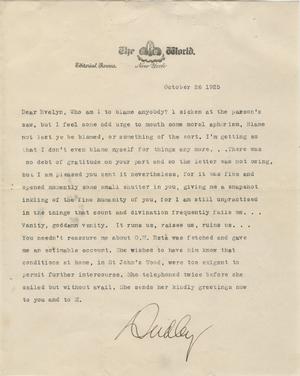 View larger image

X

Creator: Nichols, Dudley, 1895-1960

Title: Letter to Evelyn Scott


Description: Letter from Dudley Nichols to Evelyn Scott, 26 October 1925

Item Date: 26 October 1925

Material Type: Letter

ADA Caption: Letter to Evelyn Scott

Curatorial Department: Manuscripts Collection

Collection Name: Evelyn Scott Collection

Stack Location: Box 16, Folder 6

Copyright Notices: Some of the documents shown here are subject to U. S. copyright law. It is the user's sole responsibility to contact the copyright holder and secure any necessary copyright permission to publish documents, texts, and images from any holders of rights in these materials. As the owner of the physical object (not the underlying copyright), the Ransom Center requires that you also contact us if you wish to reproduce an image shown here in a print publication or electronically.

Every effort has been made to trace copyright ownership and to obtain permission for reproduction. If you believe you are the copyright owner of an item on this site, and we have not requested your permission, please contact us.

X
A letter from Dudley Nichols to Evelyn Scott, 1926