SIGNATURES
Identified individuals are represented by a biographical sketch, a list of connections to other signatures, and, in most cases, an artifact from the Ransom Centers collections. Help us identify more signatures by submitting your suggested identification.
THE DOOR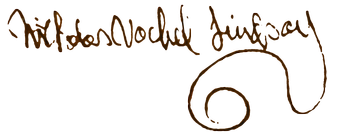 Location on door: front, panel 2
Though he is little known today, the poet Vachel Lindsay (1879-1931) was a major figure in the literary landscape of his time. His early training was as an artist, but his teacher, Robert Henri, helped him recognize that poetry was his true calling. Brought up in a deeply religious and political home in Springfield, Illinois, Lindsay was strongly influenced by mystical visions, his deep love of the American landscape, and the rhetorical power of the spoken word. Early in his career he took long walking trips—the first from Florida to Indiana—supporting himself by trading performances of his poems for food and shelter. After self-publishing broadsides and pamphlets for many years, he published his first book of poetry with a commercial press in 1913 and published frequently until his death in 1931. In 1915, he published the first ever study of film as an art form, The Art of the Moving Picture, which was received well by film-makers and critics alike. By 1920, he was widely known and respected among literary audiences, and was able to insist that his published verse be accompanied by his drawings. Intense emotional attachment had long been a difficulty for Lindsay, who had fallen deeply in love with Sara Teasdale and several other women over the course of his life. He married in 1925, but struggled with suicidal thoughts. In 1931, depressed over his work and the financial worries brought on by the financial crash of 1929, he committed suicide.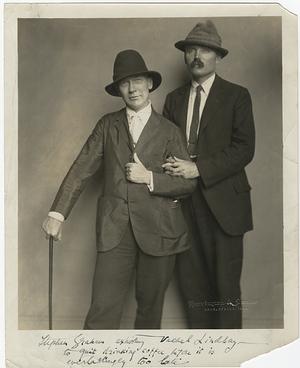 View slide show

X

Creator: Harrington & Smelser, Springfield, Illinois

Title: Photograph of Stephen Graham and Nicholas Vachel Lindsay

Item Date: Undated

Material Type: Photographs

ADA Caption: Photograph of Stephen Graham and Nicholas Vachel Lindsay

Curatorial Department: Photography Collection

Collection Name: Christopher Morley Literary File Photography Collection

Stack Location: Box 8, Folder P813

Copyright Notices: Some of the documents shown here are subject to U. S. copyright law. It is the user's sole responsibility to contact the copyright holder and secure any necessary copyright permission to publish documents, texts, and images from any holders of rights in these materials. As the owner of the physical object (not the underlying copyright), the Ransom Center requires that you also contact us if you wish to reproduce an image shown here in a print publication or electronically.

Every effort has been made to trace copyright ownership and to obtain permission for reproduction. If you believe you are the copyright owner of an item on this site, and we have not requested your permission, please contact us.

X
A photograph of Vachel Lindsay and Stephen Graham, undated
In 1921, Lindsay and the English writer Stephen Graham hiked the Rocky Mountains together, resulting in Graham's spiritual memoir, Tramping With a Poet in the Rockies (1922), illustrated by Vernon Hill. Lindsay created a "sequel and response" in the form of his own illustrated work about the voyage and other topics, Going-To-The-Sun (1923). The inscription on to this photograph reads, "Stephen Graham exhorting Vachel Lindsay to quit drinking coffee before it is everlastingly too late." Graham's book includes a long description of Lindsay's special method for brewing "stone coffee" in the morning, high in the mountains. Graham describes the brew as follows: "It is black, it is good, it has a kick like a mule; it searches the vitals and chases out the damps; it comforts the spine and gives tone to the heart."