SIGNATURES
Identified individuals are represented by a biographical sketch, a list of connections to other signatures, and, in most cases, an artifact from the Ransom Centers collections. Help us identify more signatures by submitting your suggested identification.
THE DOOR
Location on door: front, panel 1
The playwright Mary Arnold Crocker (d.1946) published under the pseudonym Bosworth Crocker. In 1906, a single mother with children, Crocker married Ludwig Lewisohn, who signed the door just below her. Crocker was an active member of the Greenwich Village theater scene. Her play The Last Straw was produced by the Washington Square Players in 1917 and The Baby Carriage was produced by the Provincetown Players in 1919. We can assume that Crocker and her husband visited the shop in its early days, since their divorce proceedings began in 1922. A fictionalized portrait of Crocker appears in Lewisohn's 1926 novel, The Case of Mr. Crump, discussed in more depth in his profile. Crocker's fury at her husband's work was such that she barred its American publication with a libel suit and kept him and his partner Thelma Spear from returning to the United States from Europe soon after, informing the State Department of their falsified claims of marriage on their visas, and forcing them to remain abroad for many years.
According to biographies of Ludwig Lewisohn (b. 1882), Crocker was twenty years his senior, but the Library of Congress lists her birth year as 1882, perhaps based upon information in the biographical sketch of "Mr. Bosworth Crocker" that appears in the anthology Representative One Act Plays by Modern Authors (1920).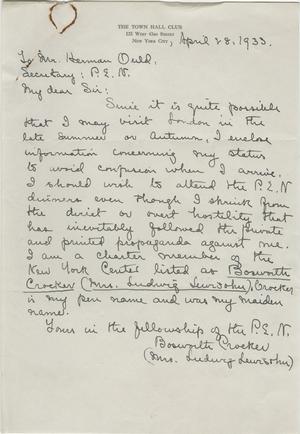 View slide show

X

Creator: Crocker, Bosworth, d. 1946

Title: Letter to Herman Ould, P.E.N.

Description: With enclosed, annotated clipping from The Library Journal

Item Date: 28 April 1933

Material Type: Manuscript

ADA Caption: Letter to Herman Ould, P.E.N.

Curatorial Department: Manuscripts Collection

Collection Name: P.E.N. Records

Stack Location: Recipient: Ould, Herman

Copyright Notices: Some of the documents shown here are subject to U. S. copyright law. It is the user's sole responsibility to contact the copyright holder and secure any necessary copyright permission to publish documents, texts, and images from any holders of rights in these materials. As the owner of the physical object (not the underlying copyright), the Ransom Center requires that you also contact us if you wish to reproduce an image shown here in a print publication or electronically.

Every effort has been made to trace copyright ownership and to obtain permission for reproduction. If you believe you are the copyright owner of an item on this site, and we have not requested your permission, please contact us.

X
A letter from Bosworth Crocker to Herman Ould, April 28, 1933, with attachment
This letter and its attachment reveal the extent to which Crocker's relationship with Lewisohn dominated her life more than a decade after he began divorce proceedings in 1922. Lewisohn produced several autobiographical novels, each of which Crocker attempted to suppress due to their representation of her and her marriage with Lewisohn. Her use of "Mrs. Ludwig Lewisohn" in the signature of this letter demonstrates her unwillingness to accept the end of the relationship.