SIGNATURES
Identified individuals are represented by a biographical sketch, a list of connections to other signatures, and, in most cases, an artifact from the Ransom Centers collections. Help us identify more signatures by submitting your suggested identification.
THE DOOR

Location on door: front, panel 1
Roy Mitchell (1884-1944) was born in Fort Gratiot, Michigan, and attended the University of Toronto. While working as a journalist in the U. S. and Canada, Mitchell also directed plays for the Arts and Letters Club of Toronto. He moved to Greenwich Village in 1915 to study theatrical design. He was the technical director of the Greenwich Village Theatre from 1917 to 1918, where he worked on a revival of the Chester Mysteries. In 1919, Mitchell returned to Canada as the director of the Hart House Theatre at the University of Toronto. He and his wife Jocelyn Taylor moved back to New York in 1927, and in 1930, Mitchell became a member of the faculty of New York University, where he was in charge of a program in experimental dramatic arts. Mitchell published many books and articles on the theater and stagecraft, including Shakespeare for Community Players (1919) and Creative Theatre (1929). An avid Theosophist, Mitchell also founded the Blavatsky Institute of Canada in the early 1920s, which published several of his lectures on Theosophy, as well as his 1923 book Theosophy in Action.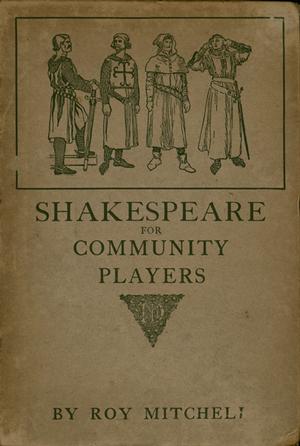 View page turner

X

Creator: Mitchell, Roy, 1884-1944

Title: Shakespeare for Community Players

Description: Cover, title page and frontispiece, dedication, preface, table of contents and first chapter

Imprint: New York: E. P. Dutton & Co., 1919

Item Date: 1919

Material Type: Monographs

ADA Caption: Shakespeare for Community Players

Curatorial Department: Book Collection

Collection Name: Theater Arts Collection

Stack Location: PR 3099 M5 HRC-TA

Copyright Notices: Some of the documents shown here are subject to U. S. copyright law. It is the user's sole responsibility to contact the copyright holder and secure any necessary copyright permission to publish documents, texts, and images from any holders of rights in these materials. As the owner of the physical object (not the underlying copyright), the Ransom Center requires that you also contact us if you wish to reproduce an image shown here in a print publication or electronically.

Every effort has been made to trace copyright ownership and to obtain permission for reproduction. If you believe you are the copyright owner of an item on this site, and we have not requested your permission, please contact us.

X
The cover and front matter of Roy Mitchell's Shakespeare for Community Players, 1919
In his writings and his theatrical projects, Mitchell sought to balance the practical aspects of theater production with his spiritual ideals. Shakespeare for Community Players is an introduction to all aspects of theater, from rehearsal to set design, and is intended for novices in the field. Mitchell envisions in the book a new type of "community player," who takes pleasure in his or her role within the collaborative experience of theater production, and who finds in that experience a means of self-expression.