SIGNATURES
Identified individuals are represented by a biographical sketch, a list of connections to other signatures, and, in most cases, an artifact from the Ransom Centers collections. Help us identify more signatures by submitting your suggested identification.
THE DOOR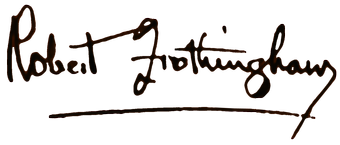 Location on door: back, panel 5
As a popular anthologist, Robert Frothingham (1865-1937) compiled a thematic "Songs of" series for publisher Houghton Mifflin, including Songs of Men (1918), Songs of Dogs (1920), Songs of Horses (1920), and several more. But before he began assembling anthologies and penning books of his own, such as the travel volume Around the World (1925), he began his career as a reporter for the Brooklyn Eagle and the New York Sun. He next moved into advertising, working first as an advertising manager at Life and Everybody's Magazine and then moving to poster advertising. He retired from that field in 1925 to focus on travel and his writing.
X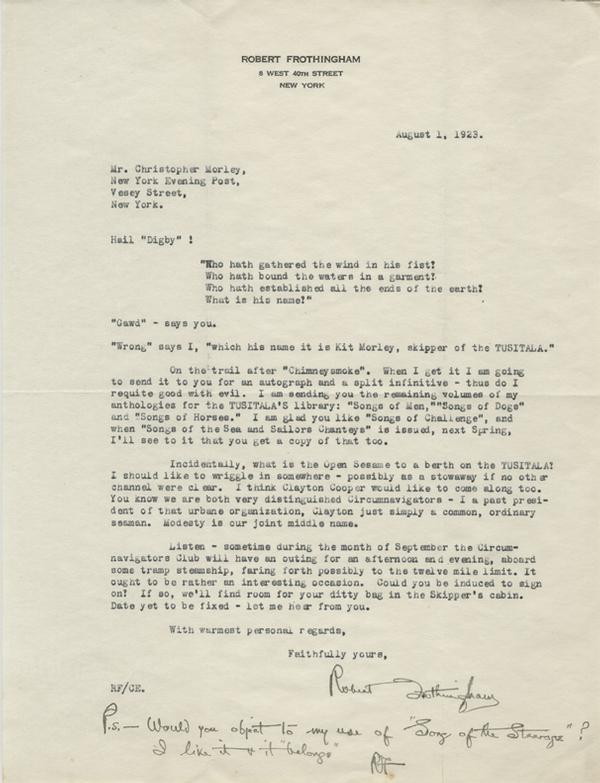 X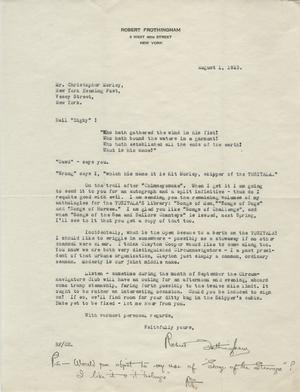 View larger image

X

Creator: Frothingham, Robert, 1865-1937

Title: Typed letter to Christopher Morley

Description: With handwritten annotations

Item Date: 1 August 1923

Material Type: Painting

ADA Caption: Letter to Christopher Morley

Curatorial Department: Manuscripts Collection

Collection Name: Christopher Morley Collection

Stack Location: Recipient

Copyright Notices: Some of the documents shown here are subject to U. S. copyright law. It is the user's sole responsibility to contact the copyright holder and secure any necessary copyright permission to publish documents, texts, and images from any holders of rights in these materials. As the owner of the physical object (not the underlying copyright), the Ransom Center requires that you also contact us if you wish to reproduce an image shown here in a print publication or electronically.

Every effort has been made to trace copyright ownership and to obtain permission for reproduction. If you believe you are the copyright owner of an item on this site, and we have not requested your permission, please contact us.

X
A letter from Robert Frothingham to Christopher Morley, 1 August 1923
In this letter to writer Christopher Morley, Frothingham offers his friend copies of his anthologies for the library of the Tusitala. Around 1923, Morley, Felix Riesenberg, William McFee, and others invested in a ship which was to run pleasure cruises out of New York for those interested in square-riggers and older sailing techniques. The ship was named the Tusitala after the nickname given to Robert Louis Stevenson by the Samoans. The adventure did not last long due to lack of funds. When Frothingham's anthology Songs of the Sea and Sailors' Chanteys was published in 1924, it contained two contributions from Morley: "Sing a Song of Steerage" and "Green Escape." The volume also contained several pieces related to the Tusitala, including a letter sending "brotherly good wishes for fair winds and clear skies" from Joseph Conrad.