SIGNATURES
Identified individuals are represented by a biographical sketch, a list of connections to other signatures, and, in most cases, an artifact from the Ransom Centers collections. Help us identify more signatures by submitting your suggested identification.
THE DOOR

Location on door: front, panel 2
In 1899, after a decade of teaching classics in New York and New Jersey area schools, Rutger Bleecker Jewett (1867-1935) entered the world of publishing. He worked for J. F. Taylor & Co, John Lane Company, and, beginning in 1911, D. Appleton Company (later D. Appleton-Century Company), where he served as Editor-in-Chief and Vice-President. At Appleton, Jewett was Edith Wharton's editor, and he developed a close working relationship and a strong friendship with the novelist. Jewett also published Zona Gale's novella, Miss Lulu Bett (1920) which became a bestseller for Appleton. Miss Lulu Bett's sales rivaled the success of Sinclair Lewis's Main Street, which was published that same year by Harcourt Brace.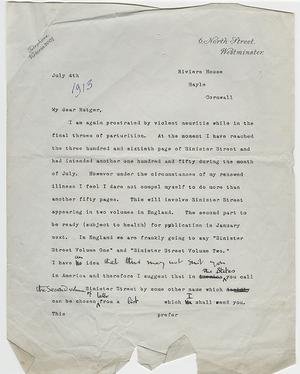 View slide show

X

Creator: Mackenzie, Compton, Sir, 1883-1972

Title: Two letters to Rutger Bleecker Jewett

Description: Handwritten corrections on first letter

Item Date: 4 July 1913; 2 September 1912

Material Type: Manuscript

ADA Caption: Two letters to Rutger Bleecker Jewett

Curatorial Department: Manuscripts Collection

Collection Name: Compton Mackenzie Papers

Stack Location: Letters: Jewett, Rutger

Copyright Notices: Some of the documents shown here are subject to U. S. copyright law. It is the user's sole responsibility to contact the copyright holder and secure any necessary copyright permission to publish documents, texts, and images from any holders of rights in these materials. As the owner of the physical object (not the underlying copyright), the Ransom Center requires that you also contact us if you wish to reproduce an image shown here in a print publication or electronically.

Every effort has been made to trace copyright ownership and to obtain permission for reproduction. If you believe you are the copyright owner of an item on this site, and we have not requested your permission, please contact us.

X
Two letters from Sir Compton Mackenzie to Rutger Bleecker Jewett, 1912-1913
These two letters concern D. Appleton's publication of the English novelist Compton Mackenzie's two-volume novel Sinister Street. They offer insight into the early twentieth-century American publishing market. In England both of the book's volumes were published under the title Sinister Street (1913-1914), but for the U. S. market the publisher's preferred to have each volume appear under a separate title. As Mackenzie's letters reveal, the titles selected were Youth's Encounter (1913) and Sinister Street (1914).