SIGNATURES
Identified individuals are represented by a biographical sketch, a list of connections to other signatures, and, in most cases, an artifact from the Ransom Centers collections. Help us identify more signatures by submitting your suggested identification.
THE DOOR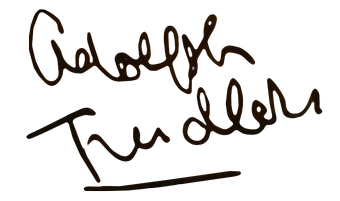 Location on door: front, panel 2
Born in Westcliff, Colorado, the artist Adolph Treidler (1886-1981) studied at the California School of Design in San Francisco from 1902 to 1904. By 1909, Treidler had relocated to New York City, where he studied painting and life drawing under the Ashcan School painter Robert Henri at his Henri School of Art. Treidler enjoyed a long career as an illustrator, both of advertisements and covers for several magazines, including McClure's, Harper's, and the Saturday Evening Post. During World War I, Treidler produced numerous posters for the United War Work Campaign, many of which advocated for women workers in munitions plants. He again designed posters during World War II, serving as the Chairman of the Pictorial Publicity Committee for the Society of Illustrators. Treidler is also known for his advertisements for the car manufacturer Pierce-Arrow, as well as his images that promoted tourism in Bermuda.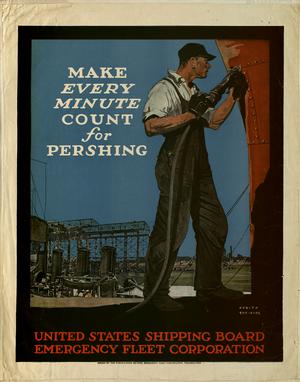 View larger image

X

Creator: Treidler, Adolph

Title: "Make Every Minute Count for Pershing"

Item Date: Undated

Dimensions: 24 3/8" x 18 3/4" (62.4 cm x 48 cm)

Material Type: Poster

Curatorial Department: Art Collection

Collection Name: War Posters Art Collection

Stack Location: 85.140.1388A

Copyright Notices: Some of the documents shown here are subject to U. S. copyright law. It is the user's sole responsibility to contact the copyright holder and secure any necessary copyright permission to publish documents, texts, and images from any holders of rights in these materials. As the owner of the physical object (not the underlying copyright), the Ransom Center requires that you also contact us if you wish to reproduce an image shown here in a print publication or electronically.

Every effort has been made to trace copyright ownership and to obtain permission for reproduction. If you believe you are the copyright owner of an item on this site, and we have not requested your permission, please contact us.

X
Adolph Treidler's "Make Every Minute Count for Pershing," undated
Treidler's graphic poster was one of many focusing on the home-front manufacturing effort during World War I. General John J. Pershing led the American Expeditionary Forces during World War I.