SIGNATURES
Identified individuals are represented by a biographical sketch, a list of connections to other signatures, and, in most cases, an artifact from the Ransom Centers collections. Help us identify more signatures by submitting your suggested identification.
THE DOOR

Location on door: front, panel 1
The Hungarian-born critic and editor Eugene Szekeres Bagger (b. 1892) lived in New York during the years of the bookshop and wrote articles on international politics and current affairs for publications such as the New York Times, Century, and the New Republic. In 1921, the New Republic announced that Bagger was editing a Hungarian-language magazine, New Age, which declared itself "uncompromisingly opposed to any idea of americanization [sic] involving kneading the immigrant into static moulds." The author of multiple biographies, his Eminent Europeans: Studies in Continental Reality was widely reviewed when it was released in 1922. In 1941 he published the autobiography For the Heathen are Wrong: An Impersonal Autobiography (1941).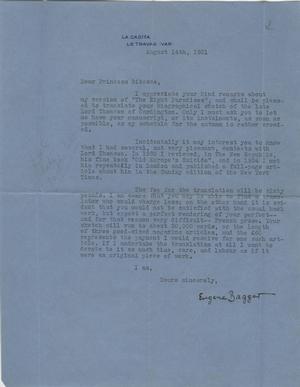 View slide show

X

Creator: Bagger, Eugene S., 1892-

Title: Letter to Princesse Bibesco

Description: Accompanied by envelope

Item Date: 14 August 1931

Material Type: Manuscript

ADA Caption: Letter to Princesse Bibesco

Curatorial Department: Manuscripts Collection

Collection Name: Princess Marthe Bibesco Papers

Stack Location: Box 13, Folder 1

Copyright Notices: Some of the documents shown here are subject to U. S. copyright law. It is the user's sole responsibility to contact the copyright holder and secure any necessary copyright permission to publish documents, texts, and images from any holders of rights in these materials. As the owner of the physical object (not the underlying copyright), the Ransom Center requires that you also contact us if you wish to reproduce an image shown here in a print publication or electronically.

Every effort has been made to trace copyright ownership and to obtain permission for reproduction. If you believe you are the copyright owner of an item on this site, and we have not requested your permission, please contact us.

X
A letter from Eugene S. Bagger to Princesse Marthe Lucie Bibesco, August 14, 1931
Bagger's talent for languages is evident both in his elegant prose and his ability to translate not just from his native Hungarian, but from the French. The Romanian-French Bibesco, whose archive resides at the Ransom Center, was a writer with intimate connections to royals across Europe and an intense interest in contemporary politics. Bagger mentions in the opening of the letter his translation of Bibesco's first book, Les Huit Paradises (1908). The project he was now agreeing to undertake was a study of Lord Thomson of Cardington, a close friend of Bibesco. Lord Thomson served as British military attaché in Romania during the First World War and later became Air Minister of Britain. He had been killed in an aircraft accident the year before. The book was published in France in 1932 as Le Destin de Lord Thomson of Cardigan. The English edition of the same year does not credit a translator.