SIGNATURES
Identified individuals are represented by a biographical sketch, a list of connections to other signatures, and, in most cases, an artifact from the Ransom Centers collections. Help us identify more signatures by submitting your suggested identification.
THE DOOR

Location on door: front, panel 1
With the exception of founder Frank Shay, the writer, editor, and journalist Christopher Morley (1890-1957) is the most important figure in the drama of the bookshop at 4 Christopher Street. Originally from Haverford, Pennsylvania, he moved briefly to New York City, and then to Garden City, New York, in 1913 to work as an entry-level editor at Doubleday, Page publishers. By the time his friend Shay opened his bookshop in 1920, Morley was writing a popular weekly column, "The Bowling Green," for the New York Evening Post, and had published two popular novels, including Parnassus on Wheels (1917), about a traveling bookshop. Shay created a real-life version of this, taking his bookstore stock to Provincetown, Massachusetts, to sell to summering bohemians each summer. Morley had an unusual skill for friendship, gathering around himself a large group of friends, and a smaller circle of intimates, many of whom shared his love for companionable drinking in the age of Prohibition. In 1924, he became an editor of the Saturday Review of Literature, which was an important venue for literary criticism for decades. After the bookshop years, Morley continued to write prolifically, producing numerous novels, essay collections, and anthologies. He was for many years on the editorial board of the Book-of-the-Month Club. His most enduring social invention is the Baker Street Irregulars, the Sherlock Holmes society that he formed in 1934 in New York City.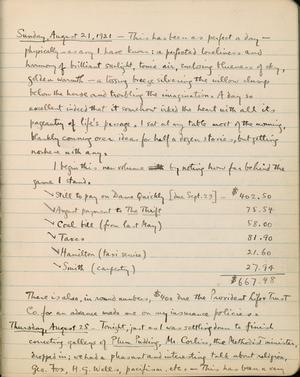 View page turner

X

Creator: Morley, Christopher, 1890-1957

Title: "Journal of 1921"

Item Date: 1921

Material Type: Manuscript

ADA Caption: Journal of 1921

Curatorial Department: Manuscripts Collection

Collection Name: Christopher Morley Collection

Stack Location: Works: Journals

Copyright Clearance: Grateful acknowledgement is made to the Christopher Morley Literary Estate for permission to display this artifact.

Copyright Notices: Some of the documents shown here are subject to U. S. copyright law. It is the user's sole responsibility to contact the copyright holder and secure any necessary copyright permission to publish documents, texts, and images from any holders of rights in these materials. As the owner of the physical object (not the underlying copyright), the Ransom Center requires that you also contact us if you wish to reproduce an image shown here in a print publication or electronically.

Every effort has been made to trace copyright ownership and to obtain permission for reproduction. If you believe you are the copyright owner of an item on this site, and we have not requested your permission, please contact us.

X
Christopher Morley's 1921 journal
This journal contains a vast amount of information about Morley's daily life in 1921, including references to Morley's visits to the bookshop and social engagements with Frank Shay and numerous people who signed the bookshop door.