SIGNATURES
Identified individuals are represented by a biographical sketch, a list of connections to other signatures, and, in most cases, an artifact from the Ransom Centers collections. Help us identify more signatures by submitting your suggested identification.
THE DOOR

Location on door: front, panel 1
Bernice Lesbia Kenyon (1898?-1982) was a Wellesley-educated writer who in the 1920s and 1930s was regarded alongside Edna St. Vincent Millay and Louise Bogan as one of the best young female poets. Kenyon also worked in publishing, serving as a story editor at Scribner's magazine and as an editorial assistant to Maxwell Perkins in Scribner's book division. There she worked with many of Perkins's famous authors, including Ernest Hemingway and F. Scott Fitzgerald. In addition to penning short stories and four volumes of poetry, Kenyon wrote the libretto for her friend Ephrem Zimbalist's opera Landara (1956).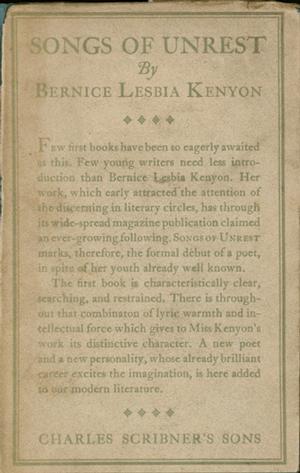 View page turner

X

Creator: Kenyon, Bernice Lesbia, 1898?-1982

Title: Songs of Unrest, 1920-1922

Description: Cover, author's inscription to Christopher Morley, and "The City Dweller"

Imprint: New York: Charles Scribner's Sons, 1923

Item Date: 1923

Material Type: Monographs

ADA Caption: Songs of Unrest, 1920-1922

Curatorial Department: Book Collection

Collection Name: Christopher Morley Collection

Stack Location: PS 3521 E596 S6 1923 MOR

Copyright Notices: Some of the documents shown here are subject to U. S. copyright law. It is the user's sole responsibility to contact the copyright holder and secure any necessary copyright permission to publish documents, texts, and images from any holders of rights in these materials. As the owner of the physical object (not the underlying copyright), the Ransom Center requires that you also contact us if you wish to reproduce an image shown here in a print publication or electronically.

Every effort has been made to trace copyright ownership and to obtain permission for reproduction. If you believe you are the copyright owner of an item on this site, and we have not requested your permission, please contact us.

X
Cover, author's inscription to Christopher Morley, and "The City Dweller" from Bernice Lesbia Kenyon's Songs of Unrest, 1920-1922 (New York: Scribners, 1923)
Songs of Unrest, 1920-1922 is Kenyon's first collection of verse. When published by Scribner's in 1923, the volume was praised in the New York Times for its "depth of thought." The reviewer likened her writing to that of A. E. Houseman, and applauded Kenyon's ability "to produce her desired effect" through simple images and diction. The column that Kenyon references in her inscription to Christopher Morley, is likely the writer's "The Bowling Green" column, which was appearing at the time in the New York Evening Post.