SIGNATURES
Identified individuals are represented by a biographical sketch, a list of connections to other signatures, and, in most cases, an artifact from the Ransom Centers collections. Help us identify more signatures by submitting your suggested identification.
THE DOOR

Location on door: front, panel 1
English novelist and journalist Wilfrid Ewart (1892-1922) survived the battlefields of the First World War only to die a few years later in Mexico City. In 1914, despite poor eyesight, Ewart took a commission as a captain in the Scots Guards. In his regiment, he met writer Stephen Graham, a conscript nearly ten years his senior, and the two formed a friendship around their shared love of writing and literature. After the armistice, Ewart penned a bestselling novel that drew on his wartime experiences, The Way of Revelation; A Novel of Five Years (1921). He next toured Ireland to report on that country's political strife for the Times and collected his articles in A Journey in Ireland, 1921 (1922). Then in April of 1922, Ewart suffered a mental and physical collapse. At the urging of the Graham, Ewart crossed the ocean to visit the couple in Santa Fe, New Mexico and recover. It was perhaps during his westward travels that he stopped in Greenwich Village and signed Frank Shay's door. On December 31, Ewart found himself visiting Mexico City. Near midnight, he stepped out onto his hotel balcony to observe the New Year's festivities and was killed by a stray bullet fired by a reveler below. Despite his death, Ewart's literary career continued. Graham published a memoir of his friend, and editor John Gawsworth (Terence Ian Fytton Armstrong) compiled several posthumous volumes of his writing.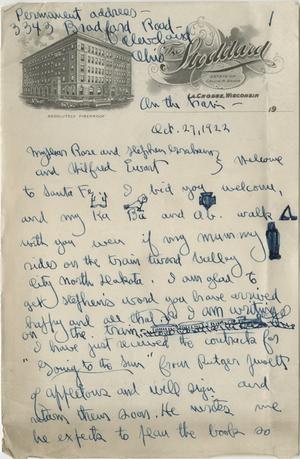 View slide show

X

Creator: Lindsay, Vachel, 1879-1931

Title: Letter to Stephen Graham and Wilfred Ewart

Material Type: Manuscript

Curatorial Department: Manuscripts Collection

Collection Name: Vachel Lindsay Collection

Stack Location: Box 1, Folder 4

Copyright Notices: Some of the documents shown here are subject to U. S. copyright law. It is the user's sole responsibility to contact the copyright holder and secure any necessary copyright permission to publish documents, texts, and images from any holders of rights in these materials. As the owner of the physical object (not the underlying copyright), the Ransom Center requires that you also contact us if you wish to reproduce an image shown here in a print publication or electronically.

Every effort has been made to trace copyright ownership and to obtain permission for reproduction. If you believe you are the copyright owner of an item on this site, and we have not requested your permission, please contact us.

X
A letter from Vachel Lindsay to Rose and Stephen Graham and Wilfred Ewart, October 27, 1922

The writer and two of the addressees of this letter signed the bookshop door: close friends Vachel Linsday and Stephen Graham, and Graham's travelling companion Wilfred Ewart. Lindsday also mentions publisher and door signer Rutger Bleecker Jewett. Much of the letter concerns the possible publication of Lindsay's Going-to-the-Sun, which Appleton did indeed go on to publish in 1923.