SIGNATURES
Identified individuals are represented by a biographical sketch, a list of connections to other signatures, and, in most cases, an artifact from the Ransom Centers collections. Help us identify more signatures by submitting your suggested identification.
THE DOOR

Location on door: front, panel 1
Alta May Coleman (d. 1931) worked as a press representative for various theater companies in the 1910s, and in the 1920s contributed essays to Theatre Magazine, including an early profile of Eugene O'Neill (1920). She wrote at least one play, Seven Up: A Farce in Three Acts, which was produced in 1919.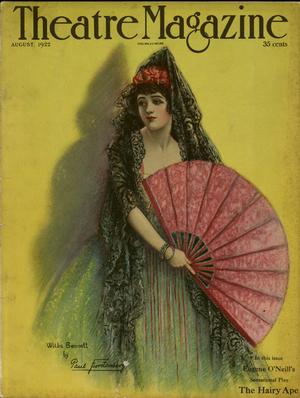 View slide show

X

Creator: Coleman, Alta May

Title: "The One Man Show" in Theatre Magazine

Description: Magazine cover, table of contents, and "The One Man Show"

Imprint: 36.257 (1922)

Item Date: 1922

Material Type: Serials

ADA Caption: "The One Man Show" in Theatre Magazine

Curatorial Department: Book Collection

Collection Name: Theater Arts Collection

Stack Location: q PN 2000 T5 v. 36 no. 257 1922 HRC-TA

Copyright Notices: Some of the documents shown here are subject to U. S. copyright law. It is the user's sole responsibility to contact the copyright holder and secure any necessary copyright permission to publish documents, texts, and images from any holders of rights in these materials. As the owner of the physical object (not the underlying copyright), the Ransom Center requires that you also contact us if you wish to reproduce an image shown here in a print publication or electronically.

Every effort has been made to trace copyright ownership and to obtain permission for reproduction. If you believe you are the copyright owner of an item on this site, and we have not requested your permission, please contact us.

X
The cover, table of contents, and Alta May Coleman's article "The One Man Show" in Theatre Magazine 36.257 (August 1922)
Coleman's article features snippets from her interviews with performers notable for their ability to command an audience's attention while alone on the stage for long stretches: Ed Wynn was a long-time performer and writer for the Ziegfeld Follies, known for his character "The Perfect Fool." Jolson had already achieved national fame five years before his famous turn in The Jazz Singer (1927). This issue of Theatre also featured excerpts from Eugene O'Neill's newest play, The Hairy Ape, which the Provincetown Players premiered in 1922.