SIGNATURES
Identified individuals are represented by a biographical sketch, a list of connections to other signatures, and, in most cases, an artifact from the Ransom Centers collections. Help us identify more signatures by submitting your suggested identification.
THE DOOR

Location on door: front, panel 2
Albert Boni (1892-1981) was the elder brother of Charles Boni; the biographies of these two door-signers are closely entwined. Born and raised in Newark, New Jersey, Albert attended Cornell and Harvard, and left school early to enter the book business. He and his brother co-founded the Washington Square Bookshop in 1913. The bookshop was just next door to the Liberal Club, and became a center for Bohemian activities in the Village; among other things, the shop published Alred Kreymborg's little magazine The Glebe. A committed socialist, Albert fostered the growing socialist movement in the Village at the time. In 1915, the brothers sold the shop to Frank Shay in order to go into publishing. In 1917, Albert joined Horace Liveright to form the publishing firm of Boni and Liveright, which went on to become one of the most important publishers of major modernist and socialist writers alike. With Thomas Seltzer, they created the Modern Library series, which still exists today. After a few years in business, the co-founders decided to split after disagreements about the firm's direction, and Liveright famously won it in a coin toss. In 1923, Albert joined with his brother Charles to form the publishing firm of Albert & Charles Boni, which also published many significant modern writers and remained in business until 1939. In 1928 they undertook an experiment called Charles Boni Paper Books, a paperback book club by mail subscription. Unfortunately, the stock market crash in 1929 hindered their effort, and the experiment failed after just a few years. Later in life, Boni became very interested in reading technology and founded the Readex Microprint Corporation.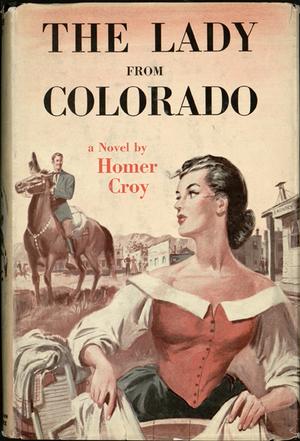 View page turner

X

Creator: Croy, Homer, 1883-1965

Title: The Lady From Colorado

Description: Cover and opening pages. Homer Croy's signed presentation copy to Nell and Albert Boni, extra illustrated by Homer Croy

Imprint: New York: Duell, Sloan and Pearce, 1957

Item Date: 1957

Material Type: Monographs

Curatorial Department: Book Collection

Collection Name: John Stuart Groves Library

Stack Location: PS 3505 R9554 L339 1957

Copyright Notices: Some of the documents shown here are subject to U. S. copyright law. It is the user's sole responsibility to contact the copyright holder and secure any necessary copyright permission to publish documents, texts, and images from any holders of rights in these materials. As the owner of the physical object (not the underlying copyright), the Ransom Center requires that you also contact us if you wish to reproduce an image shown here in a print publication or electronically.

Every effort has been made to trace copyright ownership and to obtain permission for reproduction. If you believe you are the copyright owner of an item on this site, and we have not requested your permission, please contact us.

X
The cover and selected pages of an extra-illustrated copy of Homer Croy's The Lady from Colorado (New York: Duell, Sloan, and Pierce, 1957)

This edition, inscribed from Croy to his old friends Albert and Nell Boni, is peppered with Croy's humorous insertions.