SIGNATURES
Identified individuals are represented by a biographical sketch, a list of connections to other signatures, and, in most cases, an artifact from the Ransom Centers collections. Help us identify more signatures by submitting your suggested identification.
THE DOOR

Location on door: front, panel 1
British-born novelist William MacLeod Raine (1871-1954) moved to the Texas-Arkansas border when he was a child. Raine used his experience in the pioneer west as the basis for his work, becoming a prolific and widely read writer of popular westerns. He began his career in journalism in the 1890s, working for newspapers in Seattle and Denver, and published his first novel, Wyoming, in 1908. Raine wrote more than eighty novels and a handful of non-fiction volumes about the west. His best known novels are A Texas Ranger (1910) and Yukon Gold (1917). As early as 1913, his works began to be made into films, and eventually more than twenty of his novels appeared on the silver screen.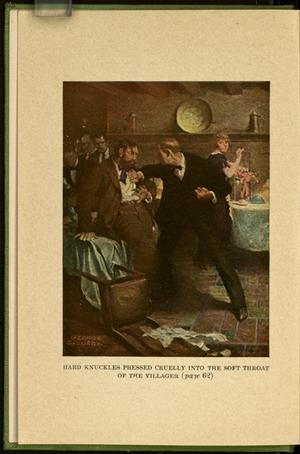 View page turner

X

Creator: Raine, William MacLeod, 1871-1954

Title: The Big-Town Round-Up

Imprint: New York: Grosset & Dunlap, 1920

Item Date: 1920

Material Type: Monographs

ADA Caption: The Big-Town Round-Up

Curatorial Department: Book Collection

Collection Name: Rare Books Collection

Stack Location: PZ 3 R135 Bi2

Copyright Notices: Some of the documents shown here are subject to U. S. copyright law. It is the user's sole responsibility to contact the copyright holder and secure any necessary copyright permission to publish documents, texts, and images from any holders of rights in these materials. As the owner of the physical object (not the underlying copyright), the Ransom Center requires that you also contact us if you wish to reproduce an image shown here in a print publication or electronically.

Every effort has been made to trace copyright ownership and to obtain permission for reproduction. If you believe you are the copyright owner of an item on this site, and we have not requested your permission, please contact us.

X
The title page and a chapter from William MacLeod Raine's The Big Town Round-Up (New York: Grosset and Dunlap, 1920)
This novel tells of the adventures of an Arizona cowboy named Clay Lindsay, who encounters tenderfoots of every variety when he travels to New York. In the chapter shown here, Clay experiences Greenwich Village bohemians, a puzzling and morally questionable crowd. Raine's send-up is a good example of popular-culture representations of Village culture at the time.