SIGNATURES
Identified individuals are represented by a biographical sketch, a list of connections to other signatures, and, in most cases, an artifact from the Ransom Centers collections. Help us identify more signatures by submitting your suggested identification.
THE DOOR

Location on door: front, panel 2
Charles Raymond Macauley (1871-1934) was a well-known political cartoonist and designer of World War I propaganda posters. He was born in Canton, Ohio, and contributed cartoons to newspapers in Cleveland and Philadelphia in the late nineteenth century before settling in New York City in 1904. For nearly 30 years after, Macauley's cartoons appeared in several New York newspapers, including the New York Morning World, New York Globe, and New York Daily Mirror. In 1929, Macauley won the Pulitzer Prize for Editorial Cartooning for a work that appeared in the Brooklyn Eagle. His most popular series of cartoons was probably those of Theodore Roosevelt, in which Macauley depicts the president wielding his famous "big stick." During World War I, Woodrow Wilson personally praised Macauley for his patriotic depictions of American forces. Macauley also wrote and illustrated a number of his own novels, and illustrated early works by Joseph Conrad and others.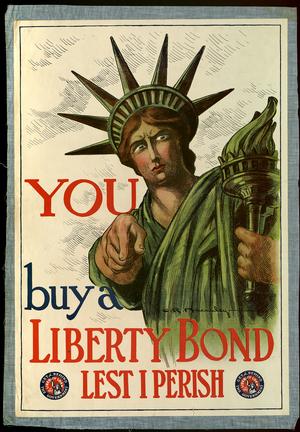 View larger image

X

Creator: Macauley, C. R. (Charles Raymond), 1871-1934

Title: "You Buy Liberty Bonds Lest I Perish"

Dimensions: 36" x 20" (76.5 cm x 51.1 cm)

Material Type: Poster

ADA Caption: "You Buy Liberty Bonds Lest I Perish"

Curatorial Department: Art Collection

Collection Name: War Posters Art Collection

Stack Location: 85.140.770f

Copyright Notices: Some of the documents shown here are subject to U. S. copyright law. It is the user's sole responsibility to contact the copyright holder and secure any necessary copyright permission to publish documents, texts, and images from any holders of rights in these materials. As the owner of the physical object (not the underlying copyright), the Ransom Center requires that you also contact us if you wish to reproduce an image shown here in a print publication or electronically.

Every effort has been made to trace copyright ownership and to obtain permission for reproduction. If you believe you are the copyright owner of an item on this site, and we have not requested your permission, please contact us.

X
C. R. Macauley's "You Buy a Liberty Bond Lest I Perish," 1919
This famous poster played an important role in the success of the first Liberty Bond campaign, which began soon after the United States joined World War I.