SIGNATURES
Identified individuals are represented by a biographical sketch, a list of connections to other signatures, and, in most cases, an artifact from the Ransom Centers collections. Help us identify more signatures by submitting your suggested identification.
THE DOOR

Location on door: front, panel 3
EDWIN (TED) MEADE ROBINSON
Edwin (Ted) Meade Robinson (1878-1946) was a Midwest-based journalist, humorist, and light poet who summered for many years in Provincetown, Massachusetts. After working at several Indianapolis and Cleveland newspapers, Robinson settled at the Cleveland Plain Dealer where he published light verse and commentary in his "Philosopher of Folly" column from 1910 until his death in 1946. The column was open to guest contributions, and some "regulars" submitted work under comic pseudonyms like "Prof. Si N. Tific" and "Sue Burbanite." Robinson also served as literary and associate editor of the Plain Dealer and lectured on Language at Cleveland College. His published books include a novel and several volumes of poetry.
X
X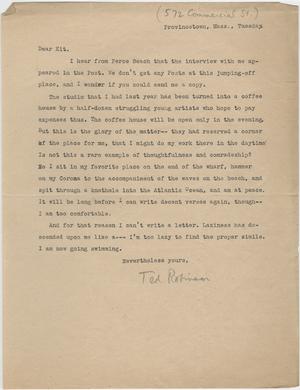 View larger image

X

Creator: Robinson, Edwin (Ted) Meade, 1878-1946

Title: Letter to Christopher Morley

Description: Typed and signed

Item Date: Undated

Material Type: Manuscript

ADA Caption: Letter to Christopher Morley

Curatorial Department: Manuscripts Collection

Collection Name: Christopher Morley Collection

Stack Location: Recipient: Robinson

Copyright Notices: Some of the documents shown here are subject to U. S. copyright law. It is the user's sole responsibility to contact the copyright holder and secure any necessary copyright permission to publish documents, texts, and images from any holders of rights in these materials. As the owner of the physical object (not the underlying copyright), the Ransom Center requires that you also contact us if you wish to reproduce an image shown here in a print publication or electronically.

Every effort has been made to trace copyright ownership and to obtain permission for reproduction. If you believe you are the copyright owner of an item on this site, and we have not requested your permission, please contact us.

X
A Letter from Ted Robinson to Christopher Morley, undated
Robinson and his wife were friendly with many of the literary inhabitants of Provincetown, including Provincetown Players Susan Glaspell and Harry Kemp. Robinson was also a distinguished member of the Beachcombers, a Provincetown social club for writers and artists. In this letter to writer and fellow columnist Christopher Morley, Robinson gives a sense of the relaxed, creative atmosphere of the Massachusetts artists' colony.