SIGNATURES
Identified individuals are represented by a biographical sketch, a list of connections to other signatures, and, in most cases, an artifact from the Ransom Centers collections. Help us identify more signatures by submitting your suggested identification.
THE DOOR

Location on door: front, panel 2
Helen Louise Cohen (1882-1957) was an editor, literary critic, and educator. Educated at Barnard and Columbia, Cohen taught high school, lectured at Columbia University Extension School, and taught summer school at Johns Hopkins University in 1924 and at Pennsylvania State College in 1929. Cohen edited four collections of plays throughout the 1920s as well as a work of literary criticism, Lyric Forms From France: Their History and Their Use, in 1922. Her connection to the bookshop is likely through Christopher Morley. According to Helen McKelvey Oakley, Cohen met Morley when he spoke to a high school English class.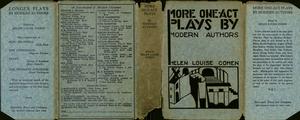 View larger image

X

Creator: Cohen, Helen Louise, 1882-1957 (Editor)

Title: Dust jacket from More One-Act Plays by Modern Authors

Description: Designed by art classes from Washington Irving High School

Imprint: New York: Harcourt, Brace and Company, 1927

Item Date: 1927

Material Type: Monographs

ADA Caption: Dust jacket from More One-Act Plays by Modern Authors

Curatorial Department: Book Collection

Collection Name: Rare Books Collection

Stack Location: PR 1272 C63

Copyright Notices: Some of the documents shown here are subject to U. S. copyright law. It is the user's sole responsibility to contact the copyright holder and secure any necessary copyright permission to publish documents, texts, and images from any holders of rights in these materials. As the owner of the physical object (not the underlying copyright), the Ransom Center requires that you also contact us if you wish to reproduce an image shown here in a print publication or electronically.

Every effort has been made to trace copyright ownership and to obtain permission for reproduction. If you believe you are the copyright owner of an item on this site, and we have not requested your permission, please contact us.

X
The dust jacket of Helen Louise Cohen's More One-Act Plays by Modern Authors (New York: Harcourt, Brace and Company, 1927)
This dust jacket was designed by art students at Washington Irving High School, where Cohen was the head of the English department and deputy principal. Christopher Morley's one-act play Good Theatre appears in the book.