SIGNATURES
Identified individuals are represented by a biographical sketch, a list of connections to other signatures, and, in most cases, an artifact from the Ransom Centers collections. Help us identify more signatures by submitting your suggested identification.
THE DOOR

Location on door: front, panel 3
The leftist journalist, novelist, and union organizer Mary Heaton Vorse (1874-1966) was born in New York City and lived in Greenwich Village for many years. She reported for magazines and newspapers on hundreds of major strikes and other labor actions in the United States and internationally from the early 1900s until the mid-1950s, when she was in her late seventies. She was likewise an important advocate for the rights of women and children, and covered suffrage issues for magazines such as the Masses, where she was an editor from 1912 to 1917. A twice widowed mother of three children, she supplemented her income by publishing countless popular short stories. From the early 1900s, when she and her first husband lived in a cooperative house on Fifth Avenue, Vorse and her family spent summers in the arts colony of Provincetown, Massachusetts, where she helped to found the Provincetown Players in 1915. John Dos Passos fictionalized her as the character Mary French in The Big Money (1936).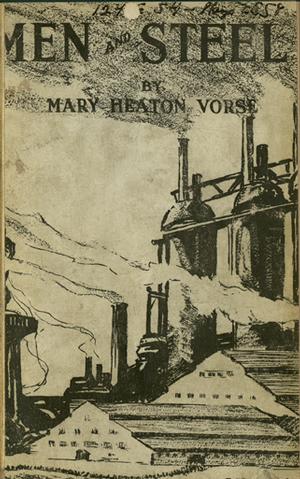 View page turner

X

Creator: Vorse, Mary Heaton, 1874-1966

Title: Men and Steel

Description: With annotations Norman Bel Geddes, chapters 17-18

Imprint: New York: Boni and Liveright, 1920

Material Type: Monographs

ADA Caption: Men and Steel

Curatorial Department: Book Collection

Collection Name: Library of Norman Bel Geddes

Stack Location: HD 5325 I5 1919 V6 HRC-TA

Copyright Notices: Some of the documents shown here are subject to U. S. copyright law. It is the user's sole responsibility to contact the copyright holder and secure any necessary copyright permission to publish documents, texts, and images from any holders of rights in these materials. As the owner of the physical object (not the underlying copyright), the Ransom Center requires that you also contact us if you wish to reproduce an image shown here in a print publication or electronically.

Every effort has been made to trace copyright ownership and to obtain permission for reproduction. If you believe you are the copyright owner of an item on this site, and we have not requested your permission, please contact us.

X
The cover, opening pages, and a selected chapter from Norman Bel Geddes's copy of Mary Heaton Vorse's Men and Steel (New York: Boni and Liveright, 1920)
One of eighteen books written by Vorse over the course of her career, this volume resulted from her research into the steel industry after she was commissioned to write a story for Outlook magazine on "The Great Steel Strike" in Pittsburgh in 1919. This copy was owned by the industrial and theatrical designer Norman Bel Geddes, whose archive resides at the Ransom Center.