CONNECTIONS
Each signature may be linked to the others by up to 53 thematic connections. Some are common to many signatures; others highlight unusual, yet notable, associations and interests. Friendships are not represented because so many signers were friends. Go to "The Bohemians" to view and interact with all 53 connections.
THE DOOR
Individuals who founded, edited, or made an otherwise significant contribution to this publishing genre are marked with this tag. Writers who contributed work to such magazines are not. These diverse publications were generally produced by writers and other creative artists for each other and a relatively small group of outside readers. They were the first place of publication for many of the greatest works of the modernist literary canon. They also hold the work of those whose names have been forgotten--poets, fiction writers, critics, playwrights, and others whose writing was read alongside works such as the poems of Marianne Moore, chapters of James Joyce's Ulysses, and so on. Some little magazines represented in this exhibition, such as Playboy and the Quill, were aimed specifically at a Greenwich Village audience; surviving copies are rare. A bemused reporter visiting the Village from Oregon in 1922 described the Village's little magazines to his hometown audience as follows: "Every villager will tell you that the soul of this unique colony is best expressed by the bizarre, tantalizing freaks in paper and printer's ink in which free verse, cubistic paintings and ultra-violet sex fiction gives expression to what the villagers like to believe is their tortured, psychic and mystical selves."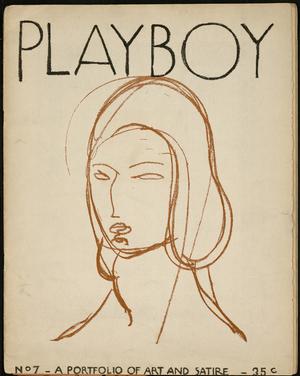 View page turner

X

Title: Playboy

Description: Entire issue

Imprint: 7 (1921)

Item Date: 1921

Material Type: Periodical

ADA Caption: An entire issue of Playboy

Curatorial Department: Book Collection

Collection Name: Rare Books Collection

Stack Location: q N 1 P5 no. 7 (1921)

Copyright Notices: Some of the documents shown here are subject to U. S. copyright law. It is the user's sole responsibility to contact the copyright holder and secure any necessary copyright permission to publish documents, texts, and images from any holders of rights in these materials. As the owner of the physical object (not the underlying copyright), the Ransom Center requires that you also contact us if you wish to reproduce an image shown here in a print publication or electronically.

Every effort has been made to trace copyright ownership and to obtain permission for reproduction. If you believe you are the copyright owner of an item on this site, and we have not requested your permission, please contact us.

X
An entire issue of Playboy (1921)
This magazine was published by Egmont Arens at the Washington Square Bookshop.