CONNECTIONS
Each signature may be linked to the others by up to 53 thematic connections. Some are common to many signatures; others highlight unusual, yet notable, associations and interests. Friendships are not represented because so many signers were friends. Go to "The Bohemians" to view and interact with all 53 connections.
THE DOOR
The Provincetown Players are arguably the single most influential community associated with the bookshop: at least eighteen participants, including ten of the group's playwrights, signed the door. Begun as an amateur theater experiment in 1915, this group had a profound influence on the path of American theater in the twentieth century. Part of the larger "little theater" movement that was gathering strength in the 1910s, the Players helped to bring a new energy to what many saw as a foundering atmosphere in mainstream theater, dominated by melodramas and other worn-out forms.
The Players were founded in Provincetown, Massachusetts in the summer of 1915, when prominent Villagers like George Cram Cook, Susan Glaspell, John Reed, Marsden Hartley and others gathered regularly to discuss the future of the American arts. Led by Cook, the group—all amateurs in the theater—decided to undertake an experiment in producing plays. They performed at Mary Heaton Vorse's wharf, and the next year they repeated the experiment, with the addition of new members including the young Eugine O'Neill. In the fall of 1916 they went to New York and produced a short season of one-act plays on Macdougal Street. The plays were variously experimental and of mixed quality, produced by the pointedly anti-professional, cast and crew drawn from the Bohemian community. Under the passionate leadership of Cook, the group grew over the next few years; plays of O'Neill, Glaspell, and Edna St. Vincent Millay were particularly well received.
The group's success eventually led to the its demise; over the years, the Players' innovative productions met such acclaim that many were produced in mainstream, profit-driven theaters; from Cook's point of view, the Players were no longer an engine of change, but part of the establishment. In 1921, O'Neill's The Emperor Jones, featuring actor Charles Sidney Gilpin, became a huge hit, and the production moved to Broadway. The Players disbanded a year later. Reconstituted soon after, the group continued in name for several more years, but the moment of transformation was over.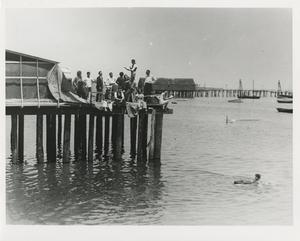 View larger image

X

Creator: Unidentified photographer

Title: Photograph of unidentified people in Provincetown, Massachusetts

Item Date: Undated

Medium: Gelatin silver print

Material Type: Photographs

ADA Caption: Photograph of a Dock in Provincetown

Curatorial Department: Photography Collection

Collection Name: Eugene O'Neill Literary File Photography Collection

Stack Location: Literary File: Eugene O'Neill

Copyright Notices: Some of the documents shown here are subject to U. S. copyright law. It is the user's sole responsibility to contact the copyright holder and secure any necessary copyright permission to publish documents, texts, and images from any holders of rights in these materials. As the owner of the physical object (not the underlying copyright), the Ransom Center requires that you also contact us if you wish to reproduce an image shown here in a print publication or electronically.

Every effort has been made to trace copyright ownership and to obtain permission for reproduction. If you believe you are the copyright owner of an item on this site, and we have not requested your permission, please contact us.

X
Summering Bohemians in Provincetown, MA, undated