CONNECTIONS
Each signature may be linked to the others by up to 53 thematic connections. Some are common to many signatures; others highlight unusual, yet notable, associations and interests. Friendships are not represented because so many signers were friends. Go to "The Bohemians" to view and interact with all 53 connections.
THE DOOR
The 1920s witnessed one of the larger construction booms of the twentieth century. The Chrysler Building, New York City's art deco skyscraper, was famously erected at the end of this decade. In Greenwich Village, growth in residential housing was changing the appearance of the neighborhood. Beginning around 1915, many nineteenth-century single-family homes were being converted into apartments. By mid-1920s, with fewer homes to convert, the focus shifted to the construction of new apartment buildings and then later, the conversion of tenements to more livable apartments. Though Franklin Abbott did work at a firm in New York, both of the architects who signed Frank Shay's door were most active in other cities earlier in the century—Abbott in Pittsburgh, where he headed an architectural firm with Benno Janssen, and M. Hawley McLanahan in the Philadelphia area, where he and William Price established the Rose Valley Association, an Arts and Crafts style community.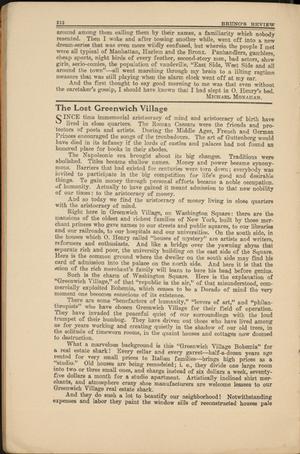 View slide show

X

Creator: Bruno, Guido, 1884-1942 (editor)

Coleman, Glenn, 1887-1932 (illustrator)

Title: "The Lost Greenwich Village" in Bruno's Review of Two Worlds

Item Date: 1921

Material Type: Periodical

Curatorial Department: Book Collection

Collection Name: Rare Books Collection

Stack Location: AP 2 B888 v.2, 1921, no.2

Copyright Notices: Some of the documents shown here are subject to U. S. copyright law. It is the user's sole responsibility to contact the copyright holder and secure any necessary copyright permission to publish documents, texts, and images from any holders of rights in these materials. As the owner of the physical object (not the underlying copyright), the Ransom Center requires that you also contact us if you wish to reproduce an image shown here in a print publication or electronically.

Every effort has been made to trace copyright ownership and to obtain permission for reproduction. If you believe you are the copyright owner of an item on this site, and we have not requested your permission, please contact us.

X
"The Lost Greenwich Village" in Bruno's Review of Two Worlds, 1921
Many Villagers in the early 1920s would have had an ambivalent view of contemporary architecture, since many of their neighborhood's beloved old buildings were being torn down and replaced by modern apartment buildings. This article and the accompanying nostalgic images of the Village's old buildings communicate the difficulties of this change.