CONNECTIONS
Each signature may be linked to the others by up to 53 thematic connections. Some are common to many signatures; others highlight unusual, yet notable, associations and interests. Friendships are not represented because so many signers were friends. Go to "The Bohemians" to view and interact with all 53 connections.
THE DOOR
Bookshop owners and publishers' salesmen are the two types of booksellers to be found on the door. In the early 1920s, the Village, as well as other neighborhoods in the city, were filled with small bookstores, stalls, and magazine stands. Many were ephemeral like Frank Shay's, lasting only a few months or a few years, and others moved from one neighborhood to another as rents and demographics changed. One little-bookshop trend of the moment seems to reveal itself among the smaller bookshops: owners giving their shops their own full names. At the same time as Frank Shay's Bookshop was in business, "Hector MacQuarrie's Book Shop" and "Dorothy Grant's Bookshop" were founded.
Several owners of small bookshops signed Shay's door. Robert Cortes Holliday, in his 1922 guide The Business of Writing, summarized the little bookshop ethos as follows:
[p style="margin-left: 20px;">People who run speciality booshops tell you a number of interesting things. The owner of a little bookshop, for one thing, usually wants his shop to stay a small bookshop. He wins his customers' confidence; they put themselves into his hands, and are grateful to him. He does not have to crawl; he is the master of his profession; those who enter 'can be nasty somewhere else.' There is very little risk in a specialty bookshop, it seems, of losing money; absolutely free credit usually is given; and everybody pays up. The little bookshops co-operate with one another: getting books from each other; sending customers to each other. And finally, there seems to be something like a conspiracy among them against, as one of them put it, best sellers in a bad sense.' 'But, I asked, 'if someone wanted a copy of a sensational best seller wouldn't you get it for him?' 'Well.' the young woman replied, 'we might get it for him, but we'd inquire into his motives.'"
Frank Shay, notably, did not appear to stigmatize bestsellers in his little shop. He carried them and even allowed their authors to sign his door.
X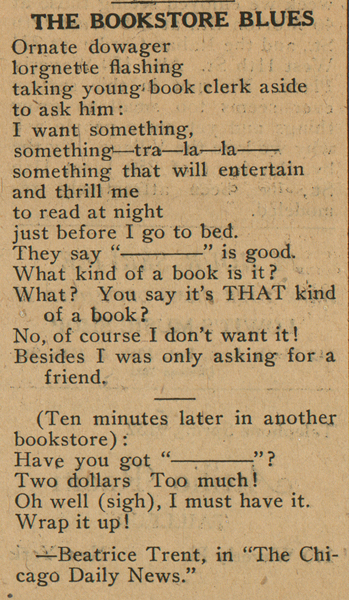 X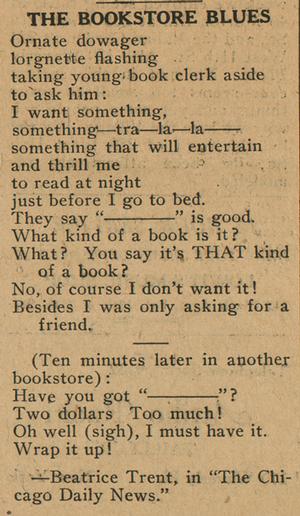 View larger image

X

Title: "The Bookstore Blues" in The Greenwich Villager

Imprint: 1.1 (9 July 1921)

Item Date: 1921

Material Type: Newspapers

Curatorial Department: Vertical File

Collection Name: Christopher Morley Collection

Stack Location: Box 601, Folder 205

Copyright Notices: Some of the documents shown here are subject to U. S. copyright law. It is the user's sole responsibility to contact the copyright holder and secure any necessary copyright permission to publish documents, texts, and images from any holders of rights in these materials. As the owner of the physical object (not the underlying copyright), the Ransom Center requires that you also contact us if you wish to reproduce an image shown here in a print publication or electronically.

Every effort has been made to trace copyright ownership and to obtain permission for reproduction. If you believe you are the copyright owner of an item on this site, and we have not requested your permission, please contact us.

X
"The Bookstore Blues" in The Greenwich Villager, 1921