CONNECTIONS
Each signature may be linked to the others by up to 53 thematic connections. Some are common to many signatures; others highlight unusual, yet notable, associations and interests. Friendships are not represented because so many signers were friends. Go to "The Bohemians" to view and interact with all 53 connections.
THE DOOR
This tag gathers together all those who were involved in theater, whether as actors, critics, directors, producers, or otherwise. One of the largest groups on the door by far, the theater community was a vibrant element of the Village at the time, quite different from the commercial atmosphere uptown on Broadway.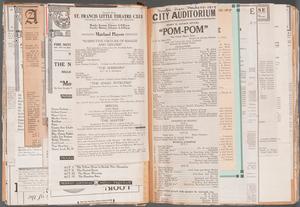 View larger image

X

Title: Playbill from the St. Francis Little Theatre Club

Material Type: Scrapbooks

ADA Caption: Playbill from the St. Francis Little Theatre Club

Curatorial Department: Performing Arts Collection

Collection Name: Scrapbooks Collection

Stack Location: Scrapbook 131: Programs 1919-24

Copyright Notices: Some of the documents shown here are subject to U. S. copyright law. It is the user's sole responsibility to contact the copyright holder and secure any necessary copyright permission to publish documents, texts, and images from any holders of rights in these materials. As the owner of the physical object (not the underlying copyright), the Ransom Center requires that you also contact us if you wish to reproduce an image shown here in a print publication or electronically.

Every effort has been made to trace copyright ownership and to obtain permission for reproduction. If you believe you are the copyright owner of an item on this site, and we have not requested your permission, please contact us.

X
A scrapbook of American playbills, ca. 1919-1924
The playbill to the left advertises a production of Floyd Dell's The Angel Intrudes at the St. Francis Little Theatre Club, San Francisco. It heralds the play as "Provincetown Players big success."